Global Top 10 Best Performance iOS Devices, June 2018
Following the release of our Top 10 best performance Android phones list for June 2018, today Antutu reveals our list of the Top 10 best performance iOS devices for June 2018, which is the second iOS list we have released since the release of Antutu V7 iOS version. How Antutu performance ranking results have changed in June for iOS devices? Check out our list below.
Statistical rules:
1.Score: average scores, not the highest scores per model (the actual running results may fluctuate, which is a normal phenomenon).
2.Period of data statistics: June 1, 2018 to June 30, 2018.
3.Data amount: at least 1000 data samples for a single model.
4.Data source: Antutu Benchmark V7.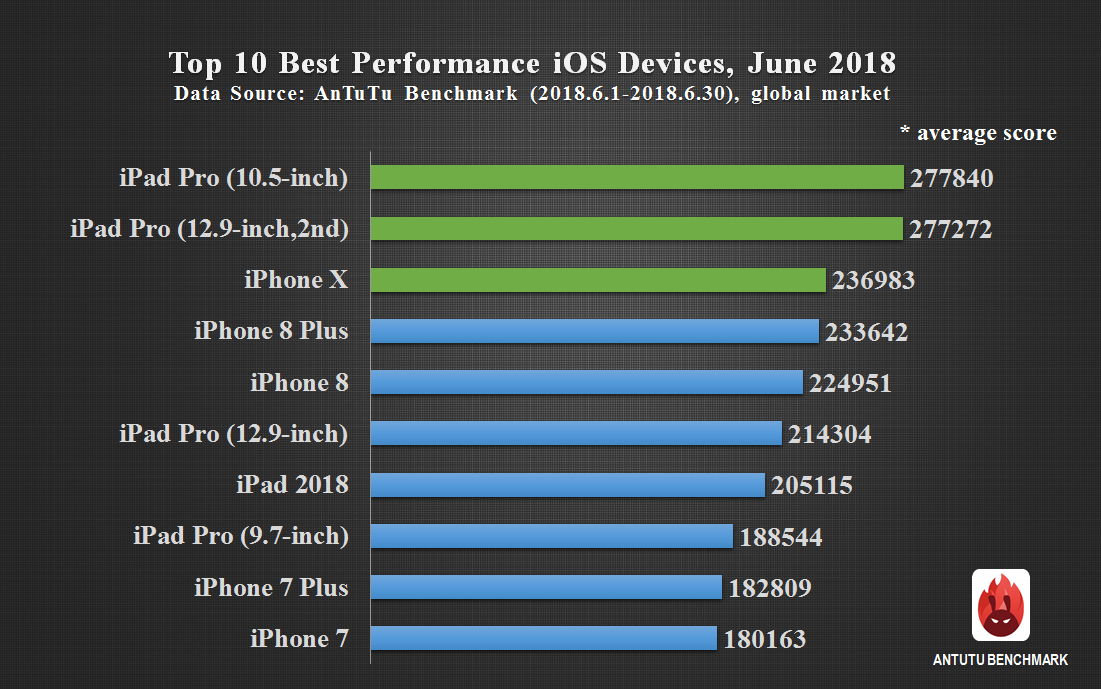 In June, iPad Pro(10.5-inch) topped the iOS list once again with an average Antutu score of 277,840, followed closely by iPad Pro (12.9-inch,2nd) with an average Antutu score of 277,272.
The iPad Pro(10.5-inch) and iPad Pro (12.9-inch,2nd) were both announced in the middle of 2017. Both of the two models are powered by the strong six-core A10X Fusion processor which delivers strong performance and effectively guarantees the fluency of the system. The main difference between the two models is the display size.  
Meanwhile, iPhone X, iPhone 8 Plus and iPhone 8 ranked third, fourth and fifth on the list respectively. All the three models are powered by A11 Bionic processor and gained an average Antutu score of about 230,000. They are first-tier iPhone products available in the market right now.   
Making up the rest of this month's Top 10 are iPad Pro (12.9-inch),  iPad 2018, iPad Pro (9.7-inch), iPhone 7 Plus and iPhone.
In particular, iPad 2018 is a new tablet computer announced by Apple this year. It comes with a 9.7-inch Retina display and A10 Fusion processor and ranked seventh on the list.       
It should be noted that since the iOS version of Antutu Benchmark v7 has added two new 3D test scenes to test gaming performance and performance limit of smartphone GPU, the overall score will be different compared to the previous version 6.    
In general, we speculate that there will be no new entries on the list before Apple's usual September event when Apple announces new iPhone products.
With the iOS 12 update, there will be some improvements in both performance and system fluency, as well as an increase in Antutu score for all iOS devices.
The above data reflects the changes of the performance of iOS devices for June 2018. For more information about the iOS ranking list, please visit Antutu official website or download AnTuTu Benchmark and check in the menu of "Ranking".