Global Top 10 Best Performance Android Phones, June 2018
The first half of 2018 has seen quite a few releases in the global smartphone market, as all the major handset makers released their flagships. All these models come with eye-catching hardware configuration and strong performance. If you are wondering which of these models is the best performer right now, check out our most updated list of Top 10 best performance Android Phones for June 2018.
Statistical rules:
1. Score: the average score of each model, not the highest score (actual running results may fluctuate, which is a normal phenomenon).
2. Period of data statistics: June 1, 2018 to June 30, 2018.
3. Data amount: at least 1000 data samples for each model.
4. Data source: Antutu Benchmark V7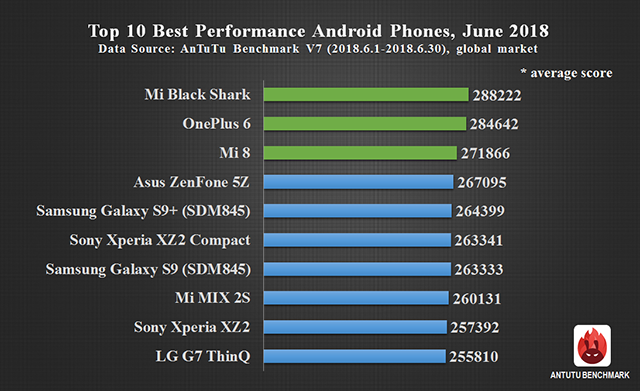 In June, Mi Black Shark continued to top the Android list for the second consecutive month with an average Antutu score of 288,222, followed by OnePlus 5 which remained the second spot with an average Antutu score of 284,642.
Mi 8 and Asus ZenFone 5Z made the list for the first time, ranking fourth and fifth respectively. Both of the two models are powered by Qualcomm Snapdragon 845 processor.  
The last position is occupied by LG's newly launched flagship LG G7 ThinQ. It is also equipped with Qualcomm Snapdragon 845 processor.
Making up the rest of this month's Top 10 are Samsung Galaxy S9+(SDM845), Sony Xperia XZ2 Compact, Samsung Galaxy S9(SDM845), Mi MIX 2S and Sony Xperia XZ2.  
In addition, since the OPPO Find X is not available on the market yet, the number of its scores reported to Antutu database didn't reach our statistical requirement, therefore it is not present on the above list.
For more information about the ranking list, please visit Antutu official website or download AnTuTu Benchmark and check in the menu of "Ranking".