Global Top 10 Best Performance Android Phones, May 2018
During the last five months, a number of new flagship phones have been launched successively, including many Snapdragon-845 powered phones,and we've had a couple of new entries into our top 10 best performance Androidphones list including Mi Black Shark and OnePlus 6. Who has won the performance crown ofMay? Today Antutu reveals our benchmark results for the 10 bestperformance Android phones for May 2018. Come and check with us.
Statistical rules:
1. Score: the average score of each model, not the highestscore (actual running results may fluctuate, which is a normalphenomenon).
2. Period of data statistics: May 1, 2018 to May 31, 2018.
3. Data amount: at least 1000 data samples for a singlemodel.
4. Data source: Antutu Benchmark V7
5.Market area: global market
In order to give you better reading experience, we have optimizedthe way we name some of the models on the list.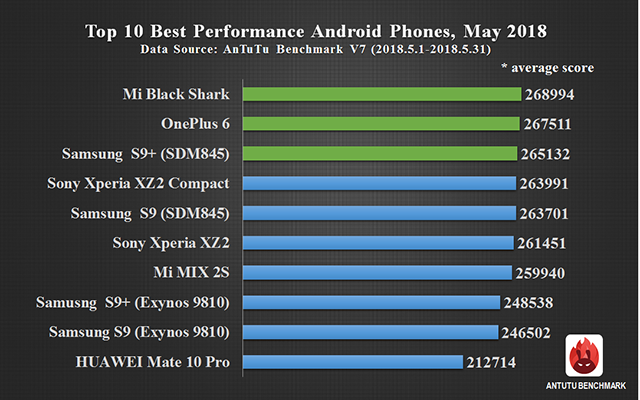 According to our most updated ranking list, Mi Black Shark replaced Samsung S9+ (SDM845/G965U) to bethe best performance Android phone of May with an average Antutu score of268,994. Mi Black Shark is a gaming phone invested by the famous Chinese phonemaker Xiaomi. It is powered by Qualcomm Snapdragon 845 mobile platform andoffers two alternative memory combinations of 6GB of RAM/64GB of internalstorage and 8 GB of RAM/128 GB of internal storage. The flagship-levelprocessor plus large memory, along with an integrated liquid cooling system laidsolid foundation for its strong performance.
The newly launched OnePlus 6 ranked second with an averageAntutu score of 267511. This model is also powered by Snapdragon 845 mobileplatform with CPU clock speed of up to 2.8GHz, paired with Adreno 630 GPU, andoffers 6GB/8GB of RAM.
Samsung S9+ (SDM845) steppeddown from the first place of last month and ranked third with an average Antutuscore of 265132. Meanwhile Samsung S9 (SDM845), Samsung S9+ (Exynos 9810)andSamsung S9 (Exynos 9810)alsoentered the top 10 and ranked fifth, eighth and ninth respectively.
Other high-performance smartphones in May that break intothe top 10 also include Sony Xperia XZ2 Compact (263991, #4), Sony Xperia XZ2 (261451,#6) and Xiaomi MIX 2S (259940, #7).
In general, all the smartphones on thismonth's top 10 list have got an average Antutu score of over 210,000. With morenew smartphones hitting the market, there will be more new entries in ourtop 10 list, including Xiaomi 8 which was recently launchedin China, and Asus ROG Phone, the gaming phone of ASUS, both of which boast an Antutuscore of over 300,000.
For more information about the ranking list, please visitAntutu official website or download AnTuTu Benchmark and check in the menu of"Ranking".