Global Top 10 Best Performance Smartphones, March 2018
There is a beautiful Chinese saying thatis often used by a man to compliment the beauty of his girlfriend: "You are theApril of this world". In this beautiful season when the grassis sprouting and the orioles are flying, the mobile industry is also beginningto embrace its April day. As a wave of new smartphones powered by the latest generation of Qualcomm processors hitting the market, Antutu performance ranking list for Android phones has had earth-shaking changes. Today Antutu reveals our benchmark results for theglobal 10 best performance smartphones of March. Is your phone on the list? Comeand check with us.
Statistical rules:
1.Score: average scores, not the highest scores (the actualrunning results may fluctuate, which is a normal phenomenon).
2.Period of data statistics: March 1, 2018 to March 31, 2018.
3.Data amount: at least 1000 data samples for a singlemodel.
4.Data source: Antutu Benchmark V7.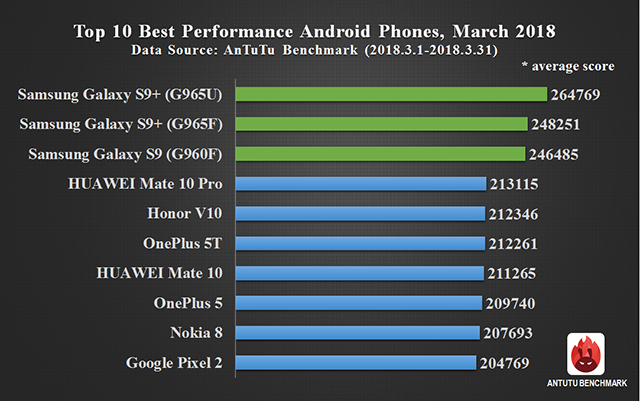 Samsung Galaxy S9 series, the latest flagship phones ofSamsung, managed to refresh the record score of our Top 10 performanceAndroid list with three models of Galaxy S9+/ Galaxy S9 series occupying the topthree positions of our March ranking.
In particular, Galaxy S9+ (G965U) topped the list with anaverage Antutu score of 264769 points, followed by Galaxy S9+(G965F) with an average Antutu score of248251 points. Galaxy S9+ (G965U) is powered by Qualcomm Snapdragon 845 mobileplatform with a clock speed of up to 2.8 GHz while Galaxy S9+(G965F) is powered by Exynos 9810processor with a clock speed of up to 2.9GHz
Galaxy S9 (G960F) whichis also powered by Exynos 9810 processor ranked third with an average Antutuscore of 24648 points.
Making up the rest of this month's Top 10 are HUAWEI Mate10 Pro (No.4), Honor V10((No.5), OnePlus 5T (No.6), HUAWEI Mate 10 (No.7),OnePlus 5 (No.8), Nokia 8 (No.9), and Google Pixel 2 ((No.10), all of which hasalso appeared on the top ten list of February except Google Pixel 2 which replaced the seventh-ranked Mi MIX 2 and entered the Top 10 of March ranking.
In general, we can see that Qualcomm Snapdragon 845 mobile platformdominated Antutu March ranking with absolute advantages. Meanwhile, with Kirin970 processor, the flagship smartphones of Huawei also entered the top ten. Itshould also be noted that Snapdragon 835-powered smartphones can still achieve an averageAntutu score of over 200k and are still good choices for those who don't havehigh expectations for mobile processors.
The above data reflects smartphone performance for March2018. For more information about the ranking list, please visit Antutu officialwebsite or download AnTuTu Benchmark and check in the menu of "Ranking".