Antutu Labs: Knockoff Smartphone Market Report 2017
Many people might have undergone some kind of wiredexperience. One day when you are walking in the street, a man passing by you whispersmysteriously to you :"want a phone? want an iPhone?" This kind of fraud hasbeen exposed to the public several years ago. However, unfortunately, there arestill many people getting tricked by this fraud. To most consumers, what ismost concerned to them when purchasing electronics products is gettingfake products, and the hazards increase when the purchase takes place at thecorner shops. If you want to know whether your new phone is a real product or aknockoff, Antutu officer is definitely a good choice for you.
Today Antutu reveals our annual report of knock-off phones inthe global market of 2017, in which we unveiled thestate of knock-off smartphone market from multiple aspects, such as the most copiedsmartphones and the specific models. If you are interested to learn about theinside of knock-off smartphone market, don't miss the following content.
Period of data statistics: January, 2017-December, 2017
Data Source: AnTuTu Officer
Number of Knockoff Phones Detected in 2017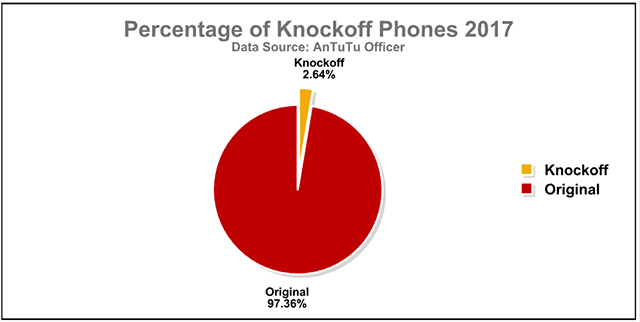 The total number of verified devices with Antutu Benchmarkin 2017 is 17,424,726, among which 2.64% of them were knockoffs.
Note: since the models of knockoffs are quite messy, the statistics doesn't include the models with verification results of unknown or not successfully submitted.
Most Copied Smartphone Brands in the World 2017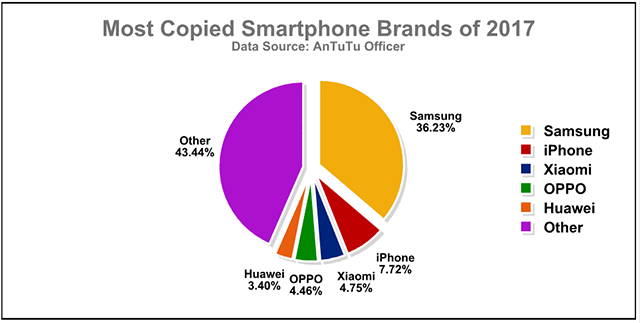 From the above chart, we can see that Samsung was the mostcopied smartphone brand in the global market in 2017 with 36.23% of all knockoffs being Samsung clones, followed by iPhone, with a share of 7.72%. Other most copiedbrands were Chinese smartphone brands, including Xiaomi (4.75%), OPPO (4.46%)and Huawei (3.40%). In fact, with Chinese smartphone makers gradually attachingimportance to expanding and enhancing offline selling in 2017, the number of Chinese smartphone clones was reduced.
Most Copied Smartphones in the World 2017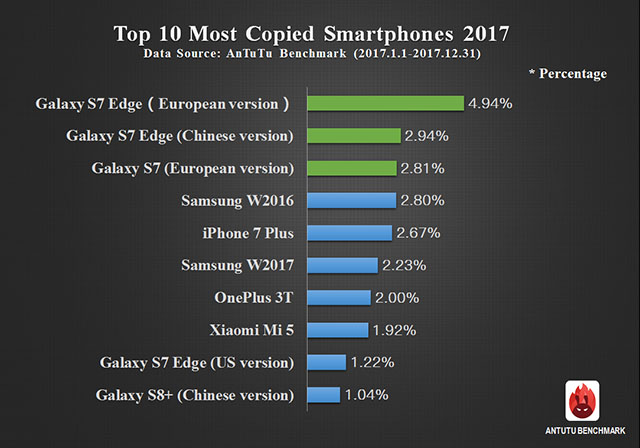 In general, we can see that Samsung GalaxyS7 Edge knockoffs were the most common in the knockoff market with the European version of Galaxy S7 Edgebeing the most copied model which accounted for 4.94% of all the knockoffs, followed by the Chinese version of Galaxy S7 edge knockoffs with a share of 2.94%. The Chinese version of Galaxy S8+ knockoffs came in the tenth position with a share of 1.04%. As high-end flagships, Fake SamsungW2016 and Samsung W2017 accounted for 2.80% and 2.23% respectively of all the knockoffs. The high profitsbrought by counterfeiting expensive flagships may be the main reason why these models werebeing copied.
Apart from Samsung, as iPhone X and iPhone 8 failed to winthe recognition of consumers after they went on sale, price discounts wereoffered for iPhone 7 Plus, which significantly raised itscost performance and in turn lead to the proliferation of knockoff iPhone7 Plus. Therefore, iPhone 7 Plus knockoffs ranked fifth with a share of 2.67%. In addition, OnePlus 3T, which is very popular in the global marketranked seventh with 2.00% of knockoffs being found, followed by Xiaomi Mi 5which ranked eighth with 1.92% of knockoffs being found.
Stats on HardwareConfigurations of Knock-off Phones in 2017
Counterfeiters make every effort to make knock-off phoneslook exactly like the real phones so that it's difficult for consumers todistinguish fake phones from real phones from the outside, but they cut cornerson the actual performance and hardware configurations of the knockoff phones. Userswho unfortunately get knockoff phones may not identify any problems in ashort period, but the actual performance is undesirable due to its inferiorhardware configurations. Let's take a look at our statistics on hardware configurations ofknock-off phones.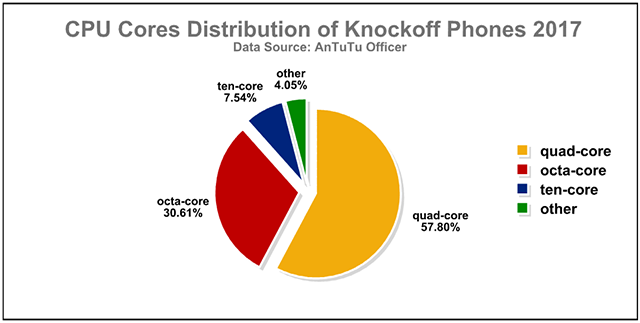 In terms of CPU Cores, 57.8% of knock-off phones adopted themore cost-effective quad-core processors while 30.61% of them used octa-coreprocessors. The share of ten-core processor was 7.54%. It seems that counterfeitershave used some real stuff to make the knock-off phones look more similar to thereal phones, although you could not expect they have moral scruples.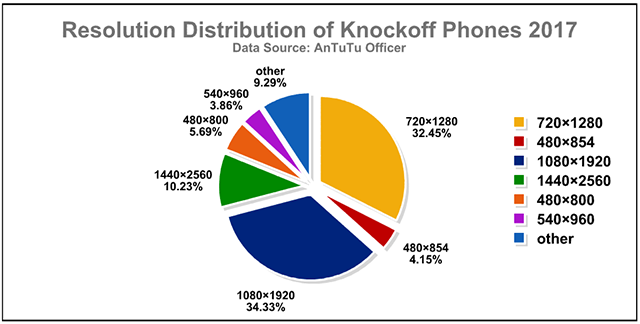 With regard to display resolution, 1080P (34.33%) and 720P (32.45%) werestill mainstream choices for counterfeiters, followed by 2k resolution with a share of 10.23%.
To sum up, in terms of foreign brands, most copied Samsungbrands are mainly high-end business phones, including Galaxy S7 series, S8series, Samsung W2016 and W2017. Although Apple'spopularity has cooled off in 2017, it's still not uncommon to see iPhoneknockoffs in the mobile market. In particular, it is rumored that after iPhoneX hit the market, knockoff iPhone X started popping up in China immediately.Therefore, if you are looking to buy a new phone, Antutu suggests that youshould go to the official store rather than take a risk on a cheap item at somecorner shops.
As for Chinese smartphone brands, including Xiaomi, OPPO andHuawei, Chinese consumers might not need to worry about the possibility ofgetting knockoffs of these brands since it's easy tofind these brands from both online and offline stores in China and therelatively low margin of these brands may make counterfeiters avoid thesebrands. Unfortunately, some foreign consumers who don'thave easy access to these Chinese brands may turn to third-party global onlinestores, which gives counterfeiters potential chances.
Again, Antutu suggests that to avoid fake smartphones, consumersshould always buy smartphones from official retail outlets, such as official stores,offline experience stores and B2C flagship stores in Jingdong and Tmall. Afterbuying a new phone, make sure to check the outer package, spare and accessoryparts, appearance and system hardware of the phone, and you'dbetter verify your phone with Antutu Officer so that you can timely fight foryour rights in case any problem spotted.