Global Top 10 Best Performance Smartphones, July 2017
With many Qualcomm Snapdragon 835-powered smartphones launching, Antutu performance ranking list has had earthshaking change. It's time for Antutu to update our benchmark results for the 10 best performance smartphones of July. Which smartphone delivers the best performance in July? Is your phone on the list? Come and check with us.
Statistical rules:
1.Score: average scores, not the highest scores (the actual running results may fluctuate, which is a normal phenomenon).
2.Period of data statistics: July 1, 2017 to July 31, 2017.
3.Data amount: at least 1000 data samples for a single model.
First, let's have a look at the overall ranking list of July.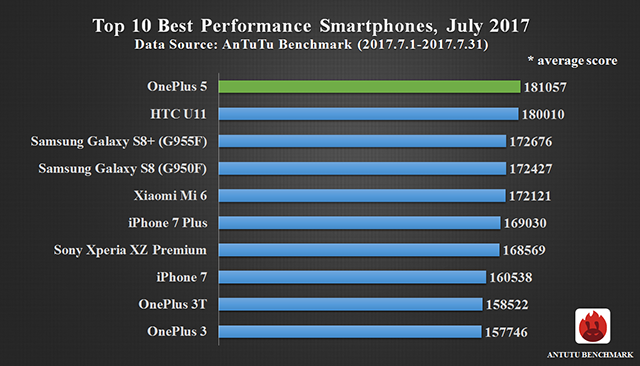 From the overall ranking list, we can see that the top five spots were taken by Android smartphones, while iPhone 7 Plus which is the most powerful iOS smartphone only took the fifth spot with iPhone 7 sliding to the ninth spot. Considering Antutu score alone, Android camp has absolute advantage in Antutu performance over iOS camp. However, just as we always stated, performance score cannot tell everything. Although iPhone 7 series have been going through a score drop recently, we cannot say that iPhone 7 series are no longer strong in performance any more. We speculate that the score drop of iOS smartphones may be due to the recent system update of iOS 10.3. With more users applying the iOS 10.3 update, average scores of iPhone 7 series expect to see a further drop.
Next, let's have a look at the separate rankings of iOS devices and Android devices.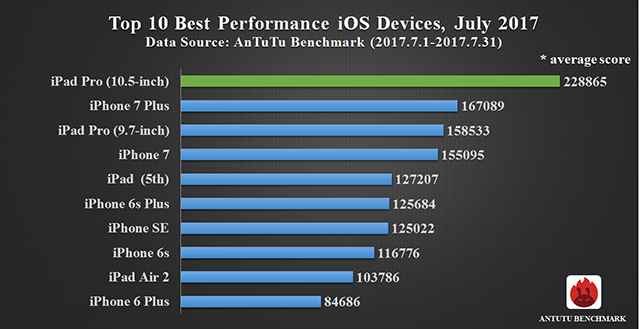 From the iOS list, we can see that iPad Pro which is powered by the powerful A10 Fusion processor continues to top the list as in June. There is a slight score drop of iPhone 7 Plus and iPhone 7 compared to our June ranking. Scores of other iOS devices didn't show much fluctuation.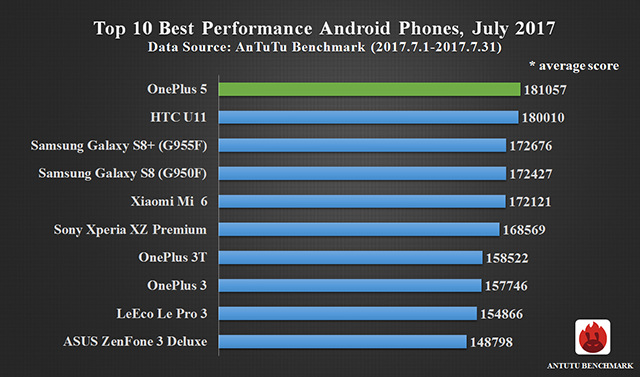 As for the Android list, the top six performance smartphones were all powered by Snapdragon 835 mobile platform. Snapdragon 835 mobile platform has outperformed all its predecessors since it is put on the market. With more and more new models launching in the next half of 2017, Snapdragon 821-powered smartphones may be squeezed out of the top 10 list.
OnePlus smartphones have been known as performance monsters. OnePlus 5 became the best performance smartphone of July with an average score of 181,057. This model is powered by Snapdragon 835 mobile platform with 6GB of RAM.
Samsung Galaxy S8/S8+, Samsung's new flagship phone, uses two versions of processors in the global market, among which the GS8-Snapdragon 835 version outperformed GS8-Exynos 8895 version and ranked third with an average score of 172,676.
Others on the list that are powered by Snapdragon 835 mobile platform include HTC U11 (second), Xiaomi Mi 6 (fifth) and Sony Xperia XZ Premium (sixth).
OnePlus 3T and OnePlus 3 ranked seventh and eighth respectively, among which OnePlus 3T is powered by Qualcomm Snapdragon 821 processor while OnePlus 3 is powered by Snapdragon 820 processor (the only Snapdragon 820-powered smartphone on the top 10 list). Both the two models have once claimed the top positions of Antutu ranking list, and are still very powerful in the current market.
LeEco Le Pro 3 and ASUS ZenFone 3 Deluxe ranked ninth and tenth respectively. The two models are both powered by Snapdragon 821 processor, and are still good choices for consumers who care more about cost performance.
The above data reflects the rankings of smartphone performance for July 2017. We also listed the top 50 performance smartphones in Antutu official website. For more information, please visit Antutu official website or download AnTuTu Benchmark and check in the menu of "Ranking".