Chip Brand Distribution and Market Shares, Q3 2016
In the third quarter of 2016, Qualcomm Snapdragon 821 was released along with several other end products. Apart from Snapdragon 821, there were also many other excellent smartphone chips in Q3. Which chip brand had the largest market share in the mobile phone market in Q3? What kind of smartphone chip was favored by manufacturers most in Q3? Antutu reveal our report of Android smartphone Chip Brand Distribution and Market Shares, Q3 2016. Come and check with us.
Generally speaking, as we said in our previous report entitled Top 10 Global Popular Smartphones and User Preferences, Q3 2016, the Android smartphone chip market was basically shared by the four chip giants Qualcomm, Samsung, MTK and Hisilicon in Q3. Meanwhile, great progress has been made in the overall performance of smartphone chips compared with the same period last year. Specific to the market performance of a single brand or a single chip, let's have a look at the below report.
Android Smartphone Chip Brand Distribution, Q3 2016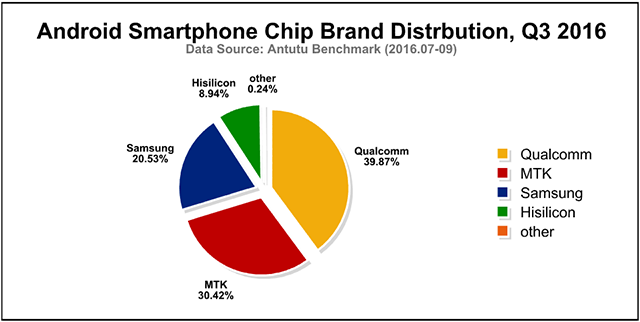 From the above chart, we can see that Qualcomm continued to maintain its dominant position with the highest market share in Q3. Qualcomm Snapdragon processors have excellent market performance in high-end market with its brand advantage and strong performance. In particular, for many experienced Chinese users, smartphones powered by Qualcomm Snapdragon processors are simply their first choices when buying smartphones, which further consolidated Qualcomm's dominant position. Manufacturers such as Samsung, LG, Xiaomi, OnePlus, vivo and OPPO are all important partners of Qualcomm.
The market share of MTK has increased to some extent compared with last quarter due to the active market performance of its MTK Helio series of end products in the mid-end market. However, there is still some gap between MTK and Qualcomm due to MTK's relatively weak performance in the high-end market.
There was also a slight increase in the market share of Samsung chips compared with the same period last year. The hot sales of Samsung Galaxy Note 5, Orion Galaxy S7 and S6, and Meizu Pro5 contributed to the increase of market share of Samsung smartphones in the global market.
The market share of Huawei Hisilicon showed little change compared with the same period last year. Although Huawei is the one of the four chip giants that shared the smartphone chip market, the fact that only Huawei smartphones use Hisilicon Kirin processors determines the limit of its market share increase. Asus Zenfone 2 also obtained certain sales in some countries and regions, so Intel chips also had certain market share, but the share was very small.
Smartphone Chip Market Share Top 10, Q3 2016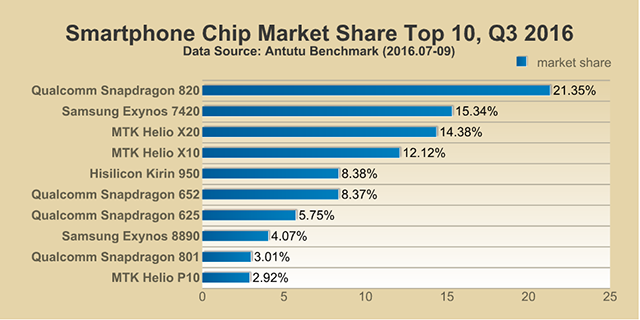 As previously mentioned, Qualcomm chips have obvious advantage in brand, chip products of Qualcomm also had excellent performance. The high-end mobile chip Snapdragon 820 topped the list with its wide brand recognition and strong performance. Hot smartphone models such as Samsung Galaxy S7 official version, Xiaomi 5 and OnePlus are all powered by Snapdragon 820 processor.
Meanwhile, Samsung Exynos 7420 aimed at high-end market was also popular with many users around the world. After the battery and recall problems of the Samsung Galaxy Note7, Note 5 (Exynos 7420)has become a better alternative in many countries and regions, which in turn secured the market share of Samsung chips.
While Qualcomm and Samsung dominated the high-end market, MTK Helio X20 and X10 had excellent performance in the mid-end market due to their high cost performance.
With continuous technology accumulation, Huawei Hisilicon chips are becoming more mature. In the past quarter, with the good sales of Huawei Mate 8, along with the selling of the new products Honor 8 and Honor V8, Hisilicon Kirin 950 also obtained good market share.
In addition, Qualcomm Snapdragon 650 and MTK Helio X25 also had certain market shares in the third quarter, but didn't break into the top 10. Qualcomm Snapdragon 821 didn't appear on the list either since it was released to the market at the end of September.
Summary
From the above data, it is not hard to conclude that the dominant position of Qualcomm in the mobile phone chip market is still very strong. with the continuous sales increase of its important partners OPPO and vivo, the market share of Qualcomm chips will be maintained. Meanwhile, MTK will continue to compete with Qualcomm to keep its advantage in the mid-end market. The sales of Huawei smartphones are increasing, plus the new Kirin 960 will be released soon, the market share of Hisilicon Kirin chips will certainly increase in the future.
The battery problem of Samsung Note 7 will have some impact on the sales of Samsung smartphones, which in turn may threaten the market of Samsung chips. Only by expanding its existing chip buyers such as Samsung and Meizu, can Samsung secure its current market share and further challenge the top position of Qualcomm.