Top 10 Performance Smartphone Chips, September 2016
Many new smartphones powered by Apple A10 and Qualcomm Snapdragon 821 emerged in the market in September, which added vitality to smartphone chip market. How do the newly released chips compare with the previous generations of chips like Snapdragon 820, MTK Helio X25 and Kirin 955 in terms of overall performance? Let's have a look at the TOP 10 performance smartphone chips.
PS: All the results in the data are average scores, not the highest ones. And the actual running results may fluctuate, which is a normal phenomenon.
Smartphone Chip Performance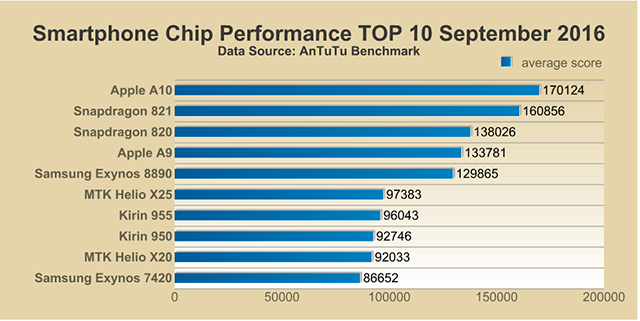 According to the most updated ranking of TOP 10 performance smartphone chips, Apple A10 and Qualcomm Snapdragon 821 successfully lived up to expectations with outstanding performance. Apple A10 took the lead, followed closely by Qualcomm Snapdragon 821, both with score of over 160,000.
Apple A10 and Qualcomm Snapdragon 821 are both quad-core CPUs. Apple A10 is built on TSMC's 16 nm FinFET process and as the first Apple-produced quad-core SoC, it has two high-performance cores and two energy-efficient cores, plus its single-core performance and enhanced GPU performance, Apple A10 won the first place with Antutu score of over 170,000.
Qualcomm Snapdragon 821 is built on the advanced 14nm manufacturing process. It has four cores, with highest clock speed of as high as 2.4GHz, GPU of Adreno 530 with clock speed of 650MHz. In terms of overall chip performance, the score of Snapdragon 821 is over 30,000 higher than Snapdragon 820, making Snapdragon 821 the first choice for many Android smartphone users.
Smartphone Chip GPU Performance
Currently, the GPU with the highest performance is Qualcomm Snapdragon 821 (Adreno530), followed by Snapdragon 820 (Adreno 530)and Apple A10. In fact, in terms of daily usage, GPU performance has a direct impact on game performance and using fluency of a mobile phone, which is a major concern for senior players.
In particular, Qualcomm Snapdragon 821 and Snapdragon 820 are both equipped with GPU of Adreno 530, but Snapdragon 821 has higher GPU performance due to its higher clock speed of 650MHz compared with that of Snapdragon 820.
As for Apple A10, it adopts the PowerVR Series of Imagination, unknown model. Progress made in Apple A10 is not very big in terms of GPU performance compared to its predecessor Apple A9.
Smartphone Chip CPU Single-Core Performance TOP 10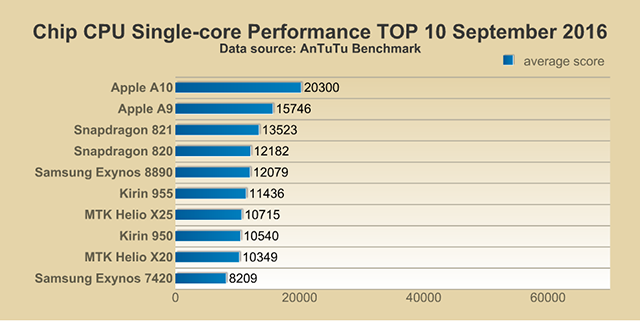 Although the GPU performance of Apple A10 can not compare with Qualcomm Snapdragon 821, it surpassed the latter in terms of single-core performance.
This time Apple A10 not only adopts the new quad-core design, but also upgrades its big core clock speed to 2.23Ghz, plus the optimization of its own chip architecture, A10 has over 20% greater CPU single-core performance compared to A9, and also has great advantages over Qualcomm Snapdragon 821.
Smartphone Chip Overall CPU Performance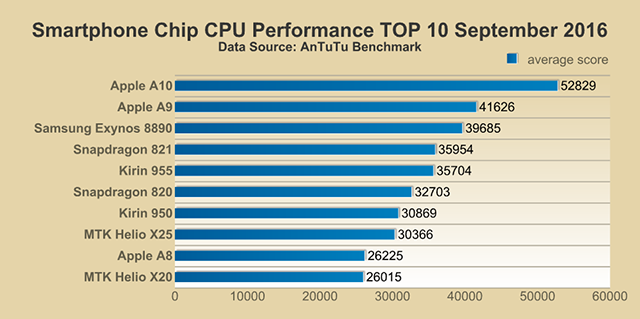 From the list of smartphone chip CPU performance TOP 10, we can see that Apple A10 and Apple A9 still took the lead with great advantage of single-core performance. Samsung Exynos 8890 caught our eyes with outstanding overall CPU performance( after all it has eight core design), and even surpassed Snapdragon 821. Kirin 955 ranked fifth and MTK Helio X25 ranked eighth.
To sum up, it's not hard to see that chips from the two giants of Apple and Snapdragon still dominate the lists, firmly occupying the top three positions. The top position of Apple A10 will be hard to beat in the short term. Meanwhile, with the release of the Snapdragon 821, the updated version of Snapdragon 820, the performance of Snapdragon processors has been enhanced to some degree. Snapdragon 821 will definitely replace Snapdragon 820 and become the standard configuration of flagship models before the release of Snapdragon 830.
As for Samsung, Hisilicon and MediaTek, since the latest flagship models have not been released, there won't be too much changes in the ranking of them. However, new information brought to light indicates that the configuration parameters of the new flagship models Samsung Exynos 8895, Hisilicon Kirin 960 and MTK Helio X30 will also be powerful. Thus, it's likely that the three new chips will have more excellent performance in the future, let's wait and see together.