Global Top 10 Android Based Devices Performance Ranking of 3
The third quarter of 2013 is really a big festival for smartphones especially in September. LG G2, Xiaomi 3, Sony Xperia Z1 and Samsung Galaxy Note 3 etc were all released in this period of time. There is no doubt that those are high-end devices. Considering that there are so many devices confused consumers which devices to purchase or how to figure out whether the device good or not, we decide to bring you a global performance ranking of the third quarter which you may learn something from it.
We reiterate here that What we want to show you is clearly the hardware performance rank itself, based on the data we collected from market, no other preference to any devices or manufacturers, or any comments in preference but objective description.
Those data all come from the background database which submitted by our users over the world from June to September. We digested and averaged those data.
Compared with the first half year rank, we can figure out that many devices appeared in the first half year rank have disappeared and the brands of devices are various. While in this rank top 10, Samsung,Sony and Xiaomi both have two devices to show on the list. Moreover,for all the brand appeared in the list,there are 3 which come from South Korea, 3 which come from China and 1 which comes from Japen. That is to say,East Asia has becoming the main high-end performance output area.
In this season,the hardware update still focus on CPU cores. In our last report, only a few devices were powered with quad-core CPU,but now all top 10 devices in our global ranking is quad-core devices.We have reason to believe in our next rank octa-core will show up. Also,Qualcomm is still the main CPU provider, and the second one is NVIDIA.However,in next season, things may change for we already have known that MTK is going to release a octa-core Pro and some other Pro manufactures are planning to announce the new generation high-end performance products.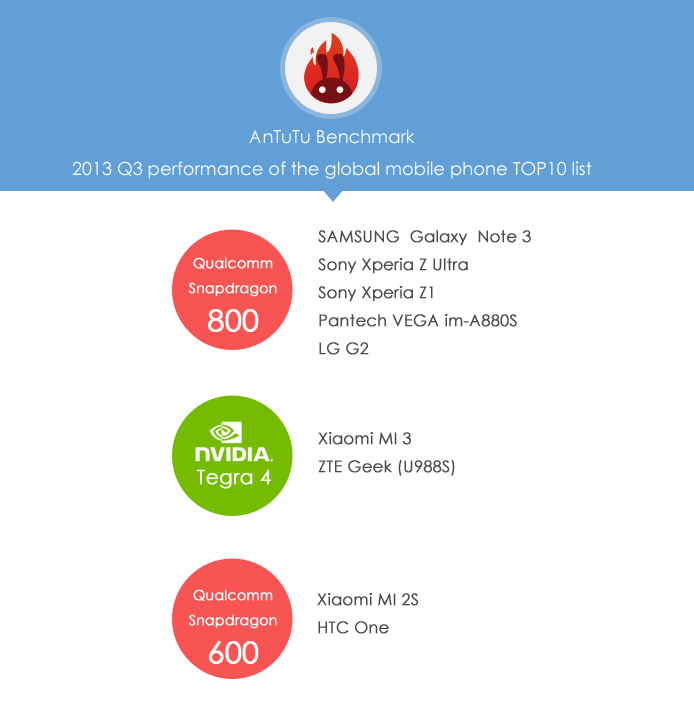 Just like last season that Samsung Galaxy S4 released and got No.1 in AnTuTu Benchmark bar, Note3 is the leader in this rank list too since it released. That is maybe the reason why Samsung got so many fans.
This is just the global rank and we also have worked out the most popular Android based Smartphone rank of the third quarter 2013 in Mainland, HK, TW and US.Please stay with us to see what kind of phone people like most!