Global Users Preferences for Android Phones, Q4 2021
Now that 2021 is officially over, it's time to review the development of Android phones over the past year. Antutu brings the user preference list in the last quarter of 2021, from which we can also see the development direction of mobile phones last year.
Today, we have worked out the user preference ranking list in the fourth quarter of 2021 based on the backstage data of Antutu. What kind of mobile phones do Antutu users prefer? Let's have a look at the ranking list.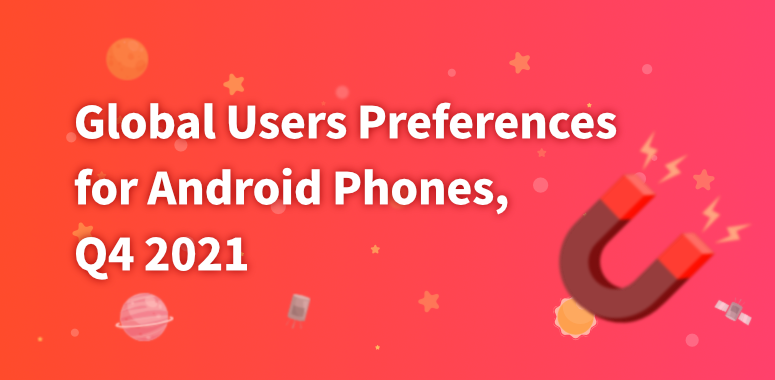 It should be noted that this preferences list is prepared based on the phone configurations of Antutu users and thus it does not represent the preferences of the overall Android market.
Screen Size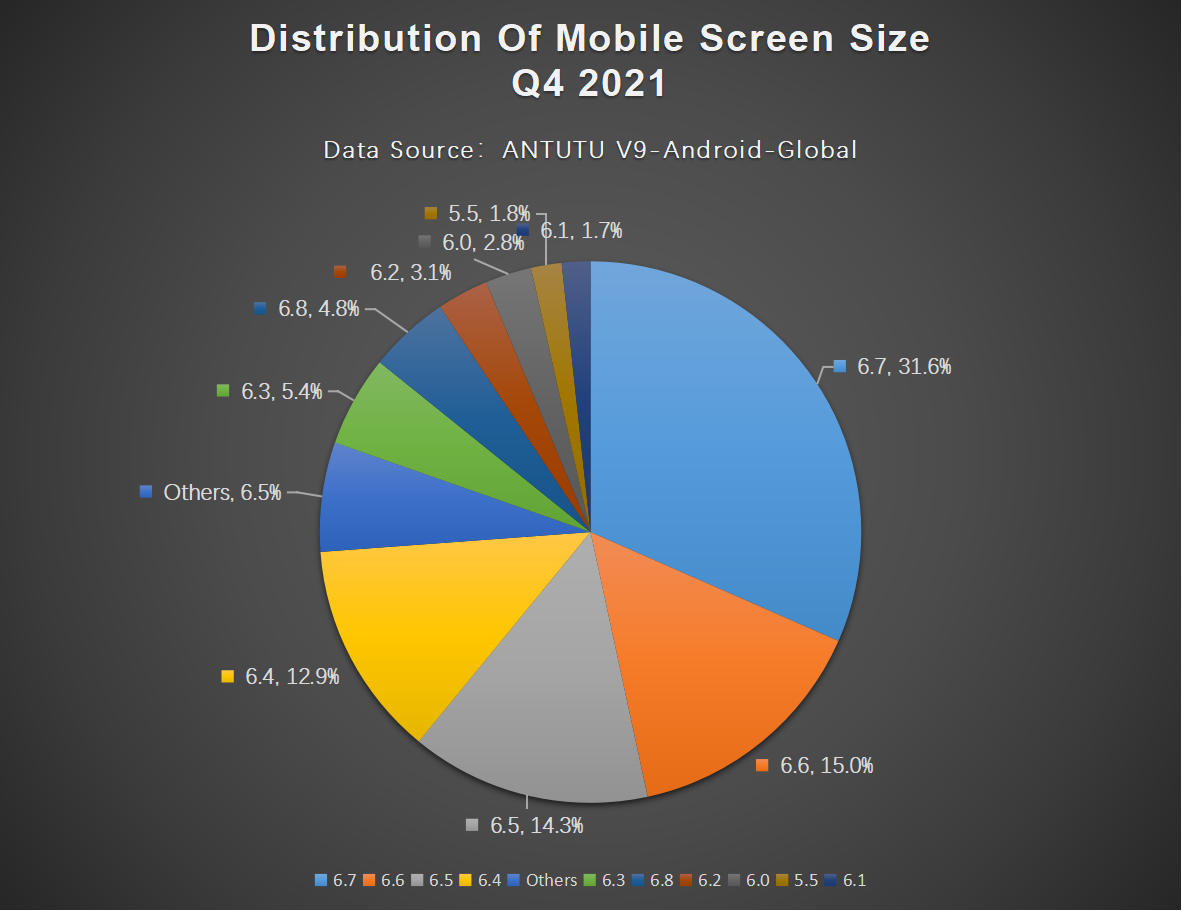 In the fourth quarter of 2021, the 6.7-inch screen accounted for 31.6%, an increase of 2.6% compared with Q3, followed by 6.6-inch and 6.5-inch screen sizes, accounting for 15% and 14.3% respectively. The combined market share of the three exceeds 60%, which shows that a larger screen size will still be the direction of mobile phone development in the future.
As the foldable screen becomes more affordable, they may be available on all phones over 7 inches. If 6.7 inches still can not meet users' pursuit of a large screen, people may consider the phone with a foldable screen.
As for small-screen phones, they may become a relic of history.
Screen Resolution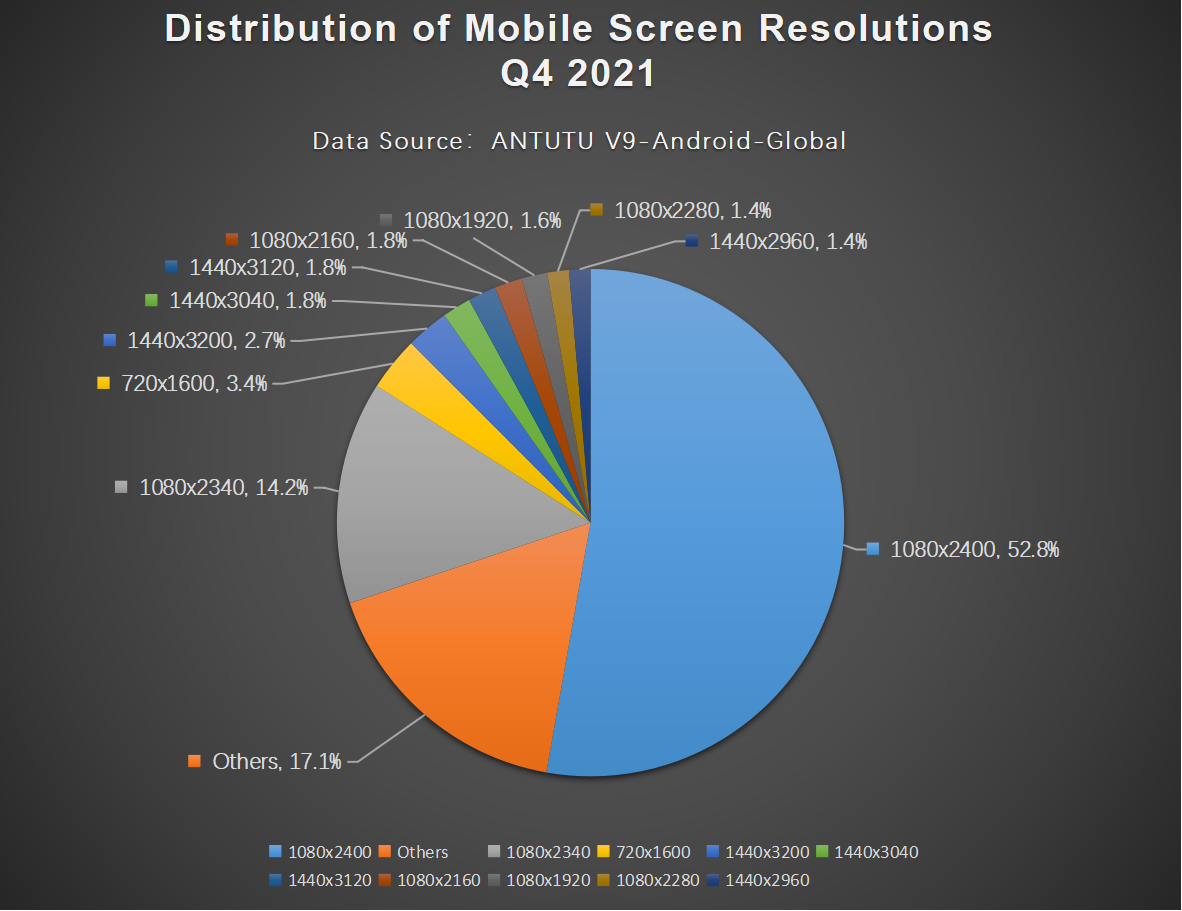 In terms of screen resolution, 1080P is still the mainstream, among which the share of 1080×2400 is 52.8%, increasing by 2.6%, occupying half of the pie chart.
As we can see from the pie chart of screen resolution in Q4, the share of 2K resolution has increased significantly, with 1440×3040 increasing to 1.8%. 3K resolution is definitely the flagship of the industry at present, which is also a very important development direction of Android phones.
Currently, the screens of most mobile phones come from a few fixed suppliers, which narrowed the gap between Android phones. Competition in mobile phone screens depends on whether phone manufacturers can spend more on customizing better screens and optimizing them.
In fact, the user experience of 2K resolution is not as good as the high refresh rate. No matter how big the screen of a mobile phone is, it is no more than the current 7-8 inch foldable screen. At this size, the visual difference between 1080P and 2K is not obvious, but a 2K resolution will increase the burden of power consumption. In short, 1080P will be with users for a long time to come.
Processor Brand
In terms of processor brand, Qualcomm's declining market share in Q3 rebounded in Q4, still ranking first with a 63.4% market share.
Mediatek remains in second place with 16.4% of the market share. The market shares of Samsung and Hisilicon continued to drop to 8.8% and 6.1%, respectively.
Although the feedback of Snapdragon 888 / 888 plus / Snapdragon 8 Gen 1 launched by Qualcomm in succession is not very good, these SoCs are still very popular in the market thanks to the popularity of Qualcomm among users. The Dimensity 9000 and Dimensity 8000 launched by Mediatek received better reviews than the Snapdragon 8 Gen 1, but it is still difficult for Mediatek to expand its market share as its previous user feedback is not as good as Qualcomm's.
It has been officially announced that the flagship phone of the Oppo Find lineup and Vivo X series will be powered by Dimensity 9000. Being used on flagship phones by two well-represented and well-marketed brands will give Mediatek a better reputation. We believe Mediatek's market share will increase significantly after the second quarter of 2022.
Hopefully, Samsung and Hisilicon can also find a way to increase their market shares.
Processor Cores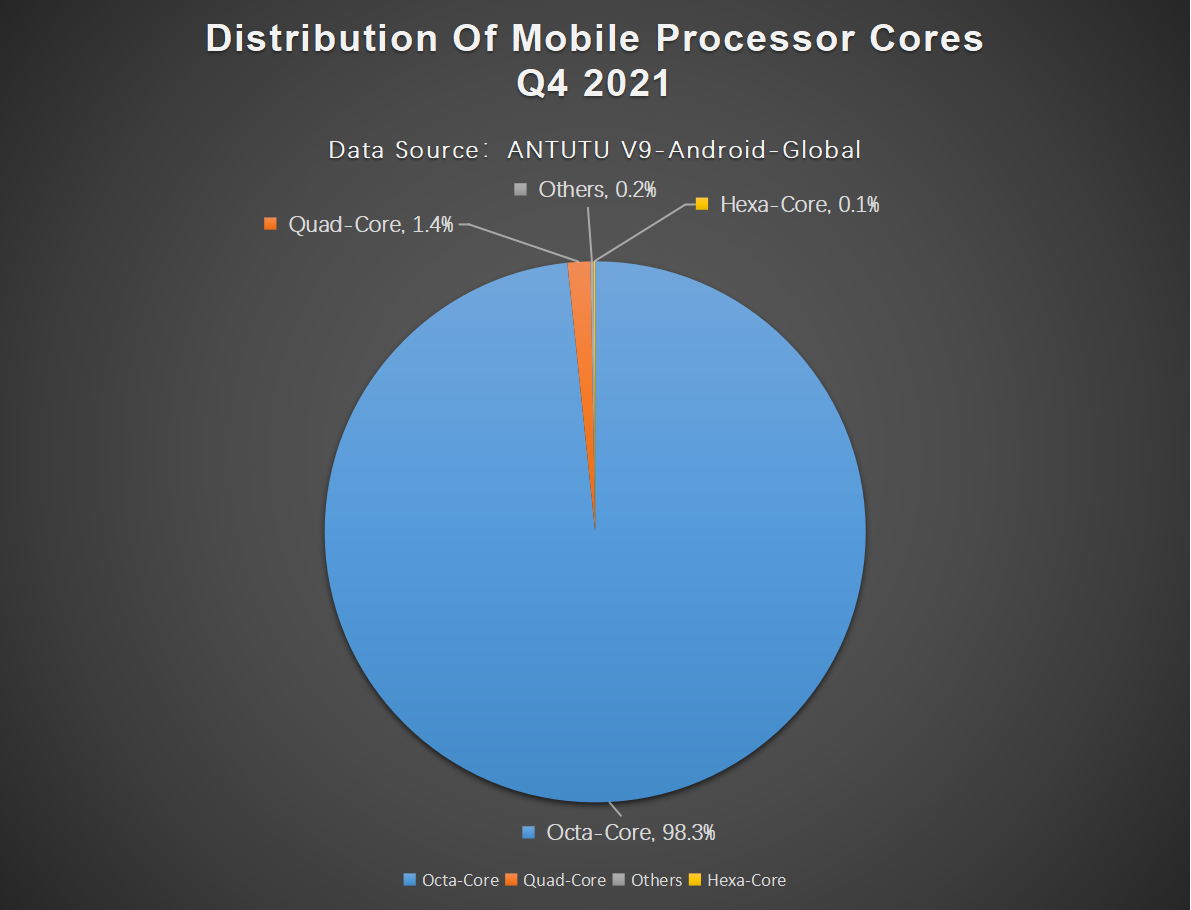 The share of Octa-core phones remains unchanged from the third quarter, at 98.3%, and it is only a matter of time before it reaches 100%. There hasn't been a new Quad-core phone in the Android smartphone market since last year, not even for entry-level phones.
As for why it still occupies a small share of the pie chart, it's just that some of the old users are still using it, perhaps as a backup or a nostalgic product.
RAM Size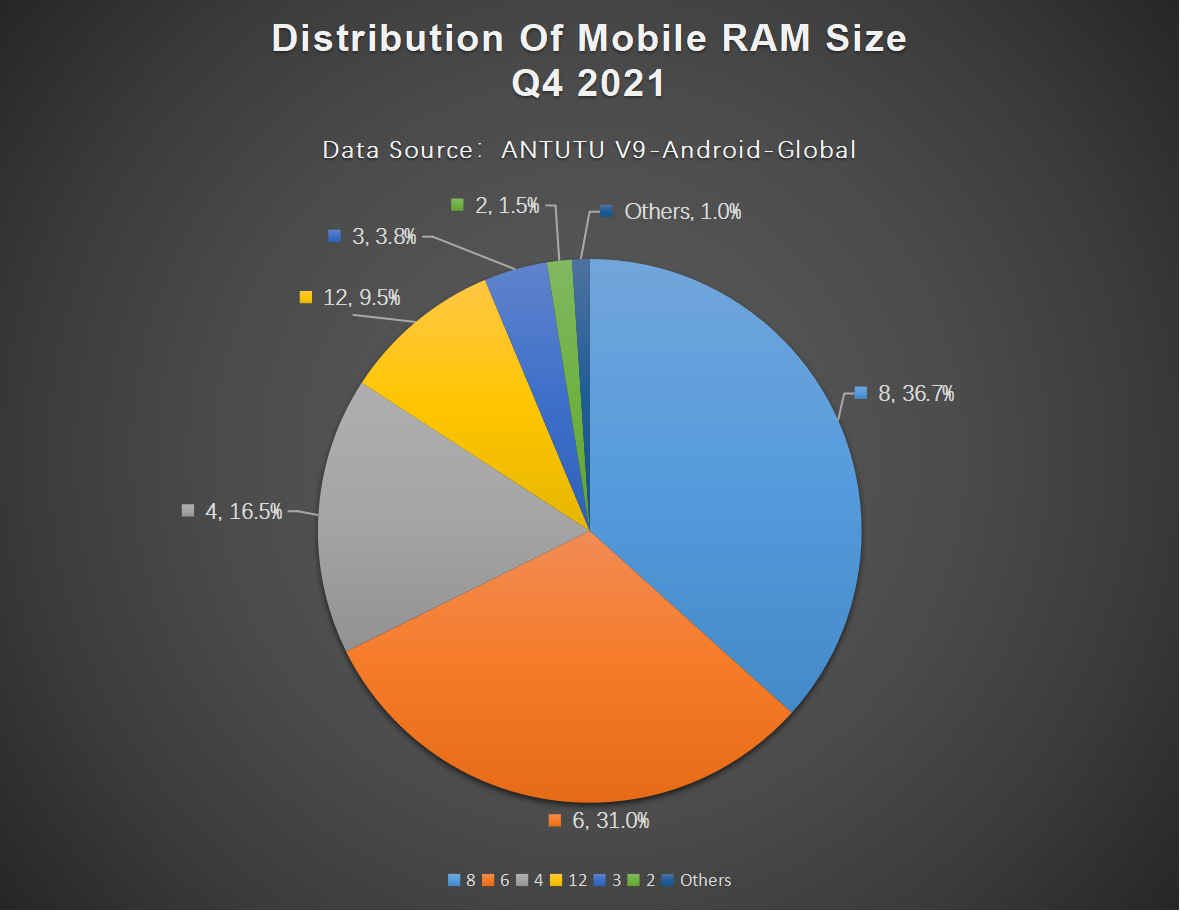 In terms of RAM size, the share of 8GB RAM finally ranked first with 36.7%, an increase of 3.2% compared with the third quarter. Its market share has increased for two quarters in a row.
On the other hand, the share of 6GB RAM, which had been the largest in the market, continued to show a downward trend, with Q4 at 31%, down 2.9% from Q3.
In the user preference list of Q3, we predicted that 8GB RAM would become the mainstream, and finally happened in Q4. This is not a prediction, but a fact, it just takes time.
The share of 12GB RAM also increased 0.4% from Q3 to 9.5%, which is also an increase for two quarters in a row. Now that some flagship mobile phones have started with 12GB RAM, let's see how long the share of 8GB RAM can rank first.
ROM Size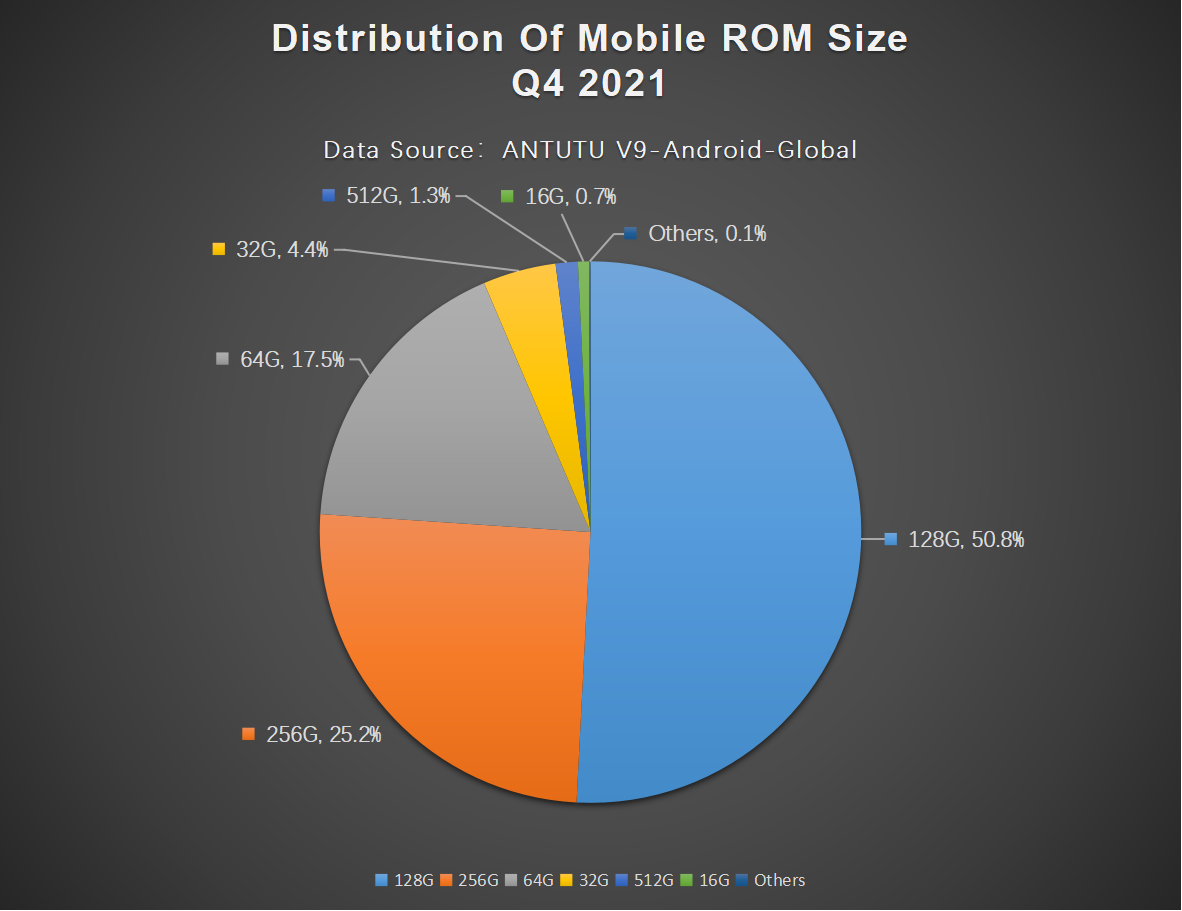 The ROM size certainly increases along with RAM size. The share of 128GB ROM is trending down, down 0.4% from Q3 to 50.8%, but still ranks first. The share of 256GB ROM increased 2.8% from Q3 to 25.2%. The share of 128GB ROM is almost twice that of 256GB ROM now, but the same as the growth trend of RAM size, 256GB ROM will one day become the mainstream of new products. For example, The recently released iQOO9 series are all started with 256GB ROM, making 128GB ROM completely a thing of the past.
Mobile apps now always start with hundreds of megabytes, and games require more than 10GB of space, so 256GB ROM will inevitably become a rigid demand.
Android Versions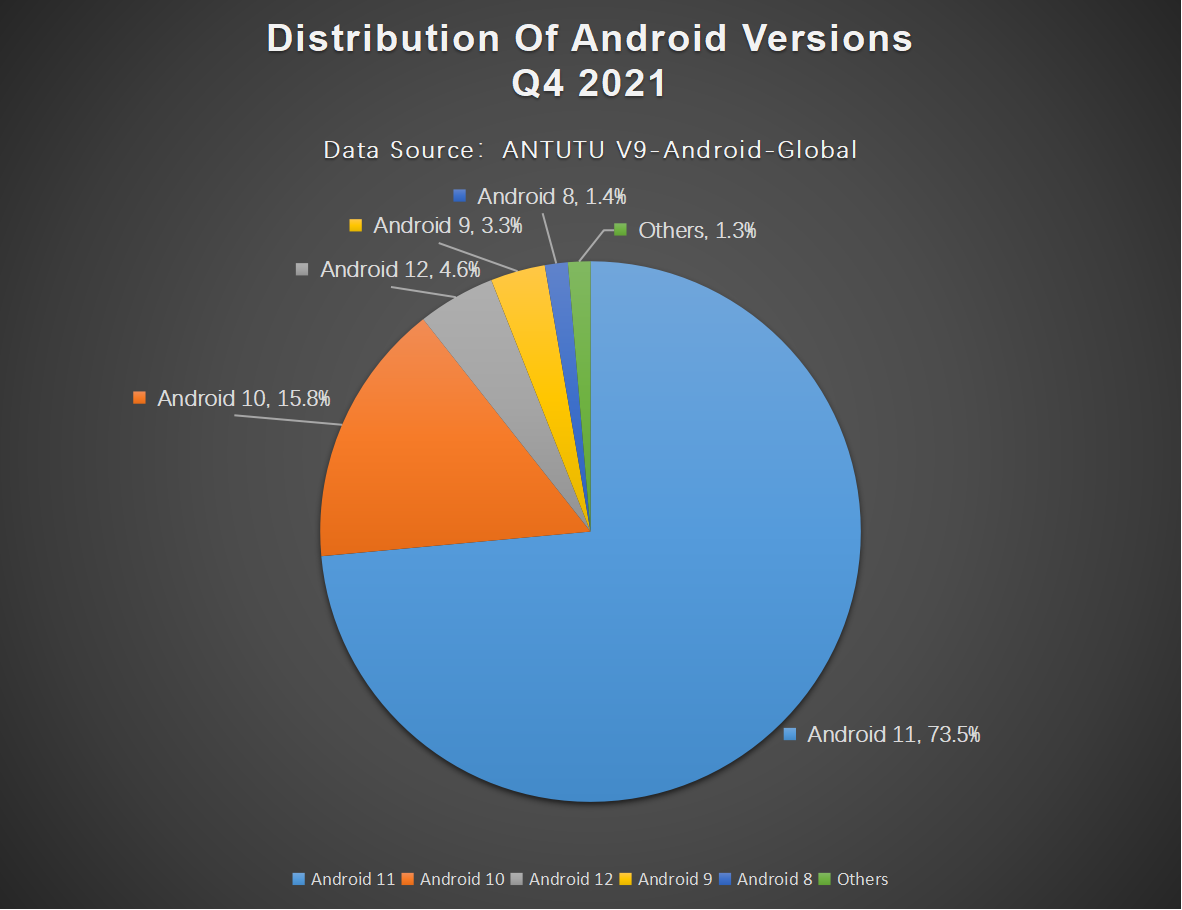 As we can see from the pie chart, the share of Android 11 only increased by 2.2% compared with Q3, accounting for 73.5%. The reason for this is that most users now prefer a better Android 12.
The share of Android 12 increased by 4.6% in Q4. Google officials have been quick to release this new Android version, phone manufacturers have also been quick to follow, and users have been keen to see what upgrades to Android will bring to the system.
Except for Android 11 and 12, which are the latest versions, the share of previous Android versions, such as Android 10 and Android 9, has been continuously shrinking. It is conceivable that users are upgrading their mobile phones to the latest Android versions. The share of Android 8 has not changed compared with Q3, perhaps because the mobile phone hardware configuration is too old to support upgrading to the latest Android system.
Screen Refresh Rate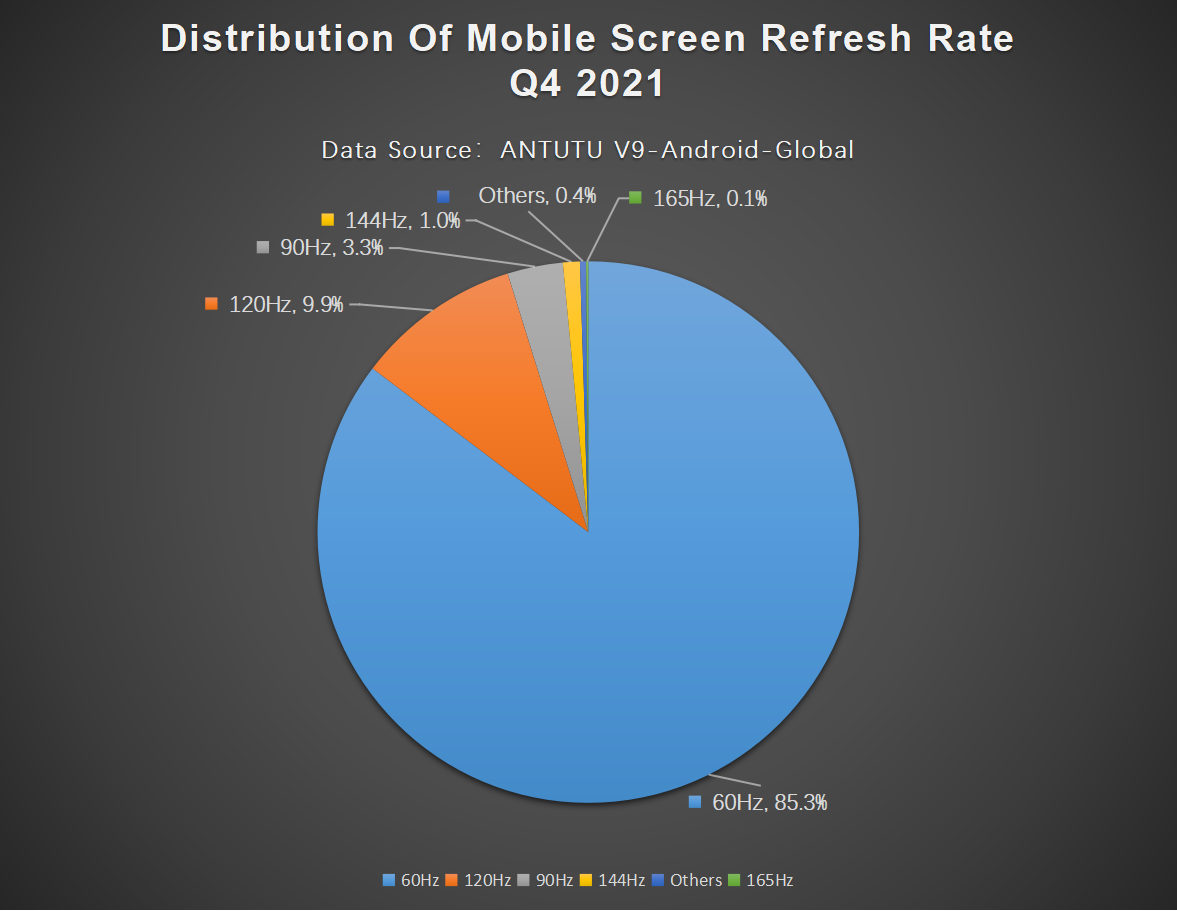 Compared with the third quarter, the share of 60Hz refresh rate increased by 27.1%, accounting for 85.3%, a sharp increase from the last sharp decline. This is not a statistical error on our end, but because mobile phone screens are advancing in a new direction: LTPO.
LTPO, in short, is an adaptive refresh rate technology. It can automatically adjust the screen refresh rate according to the content shown. For example, when watching videos and playing games, it will automatically switch to a high refresh rate, while when reading articles, it will switch to a very low refresh rate, the OnePlus phone even comes with an always-on display operating at a frequency of 1Hz.
LTPO has been upgraded to version 2.0 so far, which can bring in smoother VRR transitions and dynamic adjustment, so as to save more power. On this premise, 60Hz is the usual refresh rate of the current mobile phones and is suitable for more scenarios. This is why the share of 60Hz refresh rate has increased significantly this time, this is the result of improvement in mobile phone screen refresh rate technology.
In addition, the second and third market share refresh rate is 120Hz and 90Hz. They are affected by LTPO technology and are declining in varying degrees. It's not that the screen refresh rate is bucking the usual trend, and we should understand why.
The above is the overall picture of Antutu's global user preference ranking list in Q4 of 2021. Looking back over the whole year of 2021, the screen size, RAM size, and ROM size of mobile phones have been significantly updated. The largest market share of 6.7-inch phones represents a higher screen-to-body ratio. The largest market share of RAM 8GB represents more sufficient storage space. The share of ROM 256GB continues to increase, which represents that a larger ROM size is the inevitable direction of mobile phone development.
At the same time, there is a qualitative change in the refresh rate of the mobile phone screen, which is no longer a matter of upgrading 60Hz to 90Hz or even 120Hz, but an adaptive refresh rate according to the content shown, so as to achieve the coexistence of high refresh rate and low power consumption, which is really futuristic.
It should be noted again that the ranking list only represents the preferences of Antutu users rather than the configuration distribution of the overall Android mobile phone market.