Global Top 10 Best Performing iOS Devices, September 2019
In September, Apple held its new product launchevent and officially released the new generation of iPhones including iPhone 11,iPhone 11 Pro and iPhone 11 Pro Max, all of which are powered by the new A13 Bionicchipset and provide significant performance upgrade comparedto their predecessors, the iPhone XS/XR series.
Today Antutu reveals our benchmark resultsfor the TOP 10 best performing iOS devices for September. Unsurprisingly, all thethree new iPhones entered the Top 10 iOS list, but they didn't win the first place.Who has won the first place in September? Check out our most updated Top 10 iOSlist as measure by the average Antutu score below.
The data are collected between September 1,2019 to September 30, 2019. The list consists of iOS devices that have at least1,000 units running Antutu benchmark V7, and the scores are averaged across alldevices, making the results more representative. Additionally, the listincludes both iPhone and iPad products.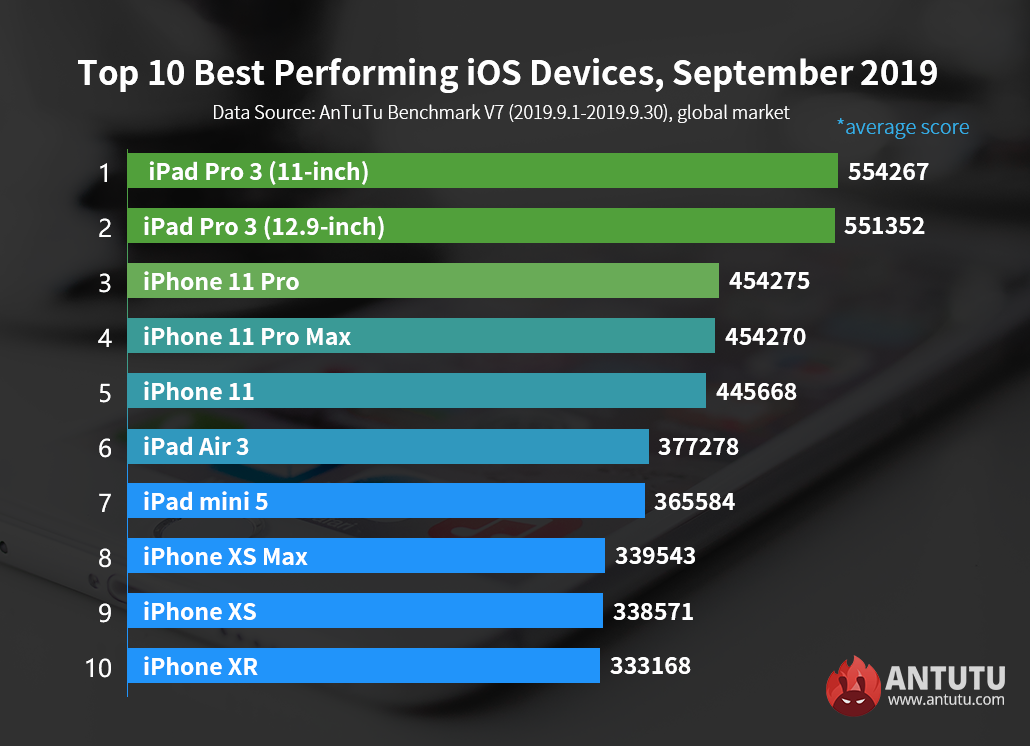 According to our most updated iOS list, the11-inch iPad Pro 3 and the 12.9-inch iPad Pro 3 (iPad Pro3 used to be known as iPadPro 2018. We changed the name in order to better manage the data in Antutubackstage) continue to occupy the top two positions with an average Antutuscore of 554,267 points and 551,352 points respectively. Both iPads are poweredby the A12X Bionic chipset, thanks to which the iPad Pro 3 series are Apple'smost powerful devices up to now.
The A12X Bionic chipset has 10 billiontransistors while the A13 Bionic only has 8.5 billion transistors. In addition, the A12X has an eight-core CPU, which consists of four high-performance coresand four energy-efficient cores. Therefore, the A12X Bionic is faster than the A13.
Why the A12X Bionic is not used in the iPhones?This is because iPad Pro 3 can provide sufficient interior space and bigbattery for the A12X Bionic chipset, which iPhone, as a compact and easy-to-carrysmartphone, cannot provide.
Following the iPad Pro 3 are the new iPhone11 series. Specifically, iPhone 11 Pro Max takes the third position withan average Antutu score of 454,275 points, followed closely by iPhone 11 Proand iPhone 11 with an average Antutu score of 454,270 and 445,668 pointsrespectively.
Comparing the average score of iPhone 11Pro Max with iPhone XS Max, we can see that the performance of A13 Bionic is significantlyimproved compared to A12 Bionic, as the average score of iPhone XS Max is only 339,543points, much lower than iPhone 11 Pro Max.
Making up the rest of this month's Top 10are iPad Air 3(avg. score 377,278), iPad mini 5(avg. score 365,584), iPhone XS Max(avg. score 339,543), iPhone XS(avg. score 338,571)and iPhone XR(avg. score 333,168), all of which are powered by the A12 Bionic chipset and still haveoutstanding performance even now.
As for the older iOS devices powered by theA10X and the A10 chipset, it will be hard to see them in the Top 10 iOS list inthe future.
Above is the global Top 10 best performingiOS devices list for the month of September. For more information aboutthe ranking list, please visit Antutu official website or download AnTuTuBenchmark and check in the menu of "Ranking".