Global Top 10 Best Performing Android Phones, June 2019.
The first half of 2019 has seen quite a few releases in theglobal smartphone market, as all the major handset makers released theirflagships. All these models come with eye-catching hardware configuration andstrong performance. If you are wondering which of these models is the bestperformer right now, check out our most updated list of Top 10 best performingAndroid Phones for June 2019.
Statistical rules:
1. Score: the average score of each model, not the highestscore (actual running results may fluctuate, which is a normalphenomenon).
2. Period of data statistics: June 1, 2019 to June 30, 2019.
3. Data amount: at least 1000 data samples for each model.
4. Data source: Antutu Benchmark V7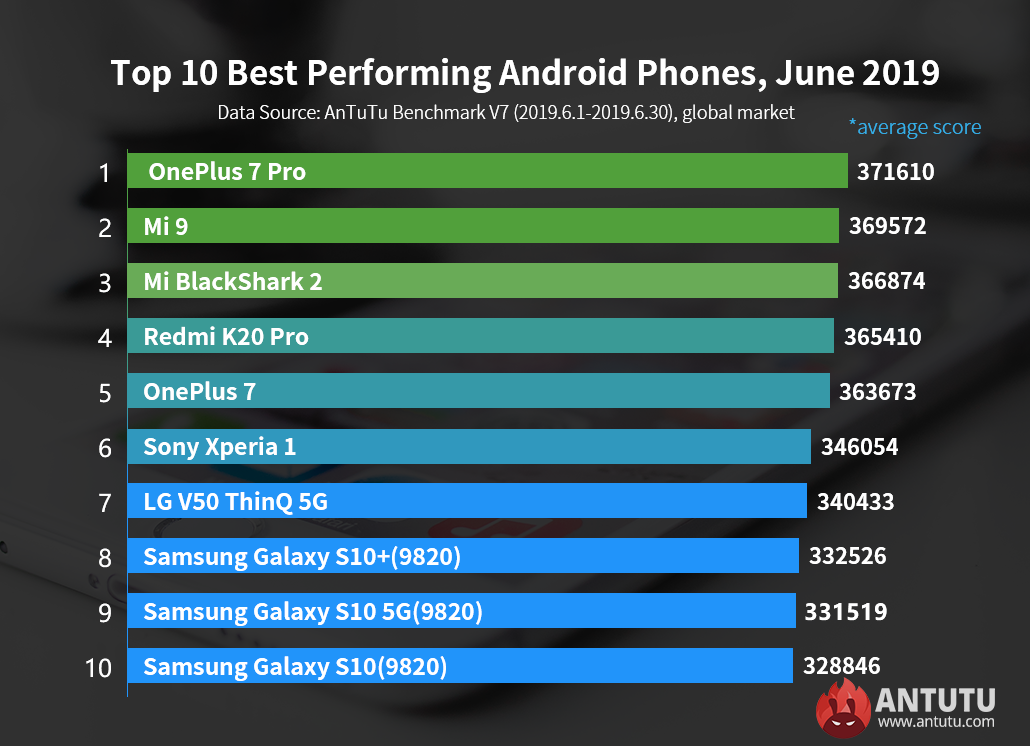 In June, OnePlus 7 Pro continue to top the list for thesecond consecutive month with an average Antutu score of 371,610. Poweredby Snapdragon 855 SoC, OnePlus 7 Pro is the first smartphone in the market to shipwith UFS 3.0 memory which allows it to process large files faster than any otherflagship phones. Apart from high performance, OnePlus 7 Pro also features a 90Hzdisplay supporting HDR10/10+ with a screen resolution of 3120x1440 and 800 nitsof brightness.
Coming in second is Mi 9 which achieves an average Antutuscore of 369,572. This model is also powered by Snapdragon 855 SoC with an aggressiveCPU scheduling that enables the running of eight CPU cores at full load forlonger amount of time, allowing it to deliver stronger CPU performance than otherflagship phones although at the cost of more power consumption and weakerbattery life. In order to boost its battery life, Mi 9 is also equipped with a27W wall charger and a 20W wireless charger.
The third place goes to Mi BlackShark 2 with an average Antutuscore of 366,874. Being a gaming phone, Mi BlackShark 2 is also powered bySnapdragon 855 and has flagship performance. It has a new liquid cooling systemand a built-in large capacity cooling component that ensures excellent heatdissipation capability.
Other Snapdragon 855 devices on the list include Redmi K20Pro (365,410), OnePlus 7 (363,673), Sony Xperia 1 (346,054), and LG V50 ThinQ 5G (340,433.   
The last three positions are occupied by the Exynos 9820-poweredSamsung Galaxy S10+(9820), Samsung Galaxy S10 5G (9820) and Samsung GalaxyS10(9820), which scored 332,526, 331,519 and 328,846 respectively.
Above is the global Top 10 best performing Android phones list for the month of June. For more information about the ranking list, please visit Antutuofficial website or download AnTuTu Benchmark and check in the menu of"Ranking".