Global Top 10 Best Performing iOS Devices, May 2019
Time flies. It's almost half of 2019 now, not too far from Apple's new product launch event in September. Since iOS 13 has already been announced at WWDC, what we can expect now is the debut of new iPhones.
According to official news from Apple, iOS 13 has been optimized across the entire system, making it faster than ever. App update sizes will be 60 percent smaller. App launches will be will be 2x faster. Face ID unlocks will be 30 percent faster. How will iOS 13 change the performance of iOS devices? We may have to wait until the release of its public beta in July to know the result.
Today Antutu reveals our list of the global Top 10 best performing iOS devices for May 2019. What's new in the iOS list of May? Come check with us.
The data are collected between May 1, 2019 to May 31, 2019. The list consists of iOS devices that have at least 1,000 units running the latest Antutu benchmark V7, and the scores are averaged across all devices, making the results more representative. Additionally, the list includes both iPhone and iPad products.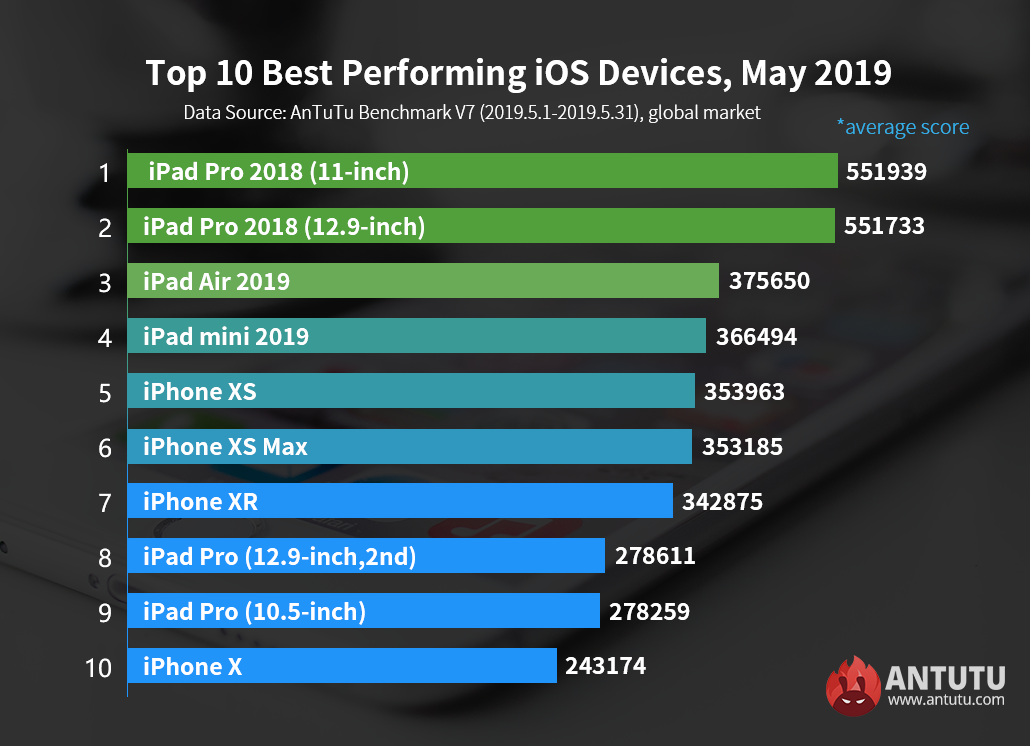 According to our most updated ranking, the 11-inch iPad Pro 2018 takes the first place once again with an average Antutu score of 551,939 points, followed closely by the 12.9-inch iPad Pro 2018 with an average Antutu score of 551,733 points. The two iOS devices have been occupying the top two positions since their releases thanks to the A12X Bionic chipset that powers them, and the relatively large interior space that allows good cooling capacity.
The third place is taken by iPad Air 2019 that has scored 375,650 points. iPad mini 2019 comes fourth with a score of 366,494 points. Both the 2019 iPads share the same A12 Bionic chipset with the latest generation iPhones, and there are no big changes in their scores compared to last month. However, since Apple has released iPadOS, which has extra features designed specifically for the iPad's larger display, there may be some changes in the scores of iPads when they receive this update.
The next three positions are occupied by the three A12 Bionic powered iPhone series. Specifically, iPhone XS takes the fifth position with an average Antutu score of 353,963 points, followed closely by iPhone XS Max with an average Antutu score of 353,185 points. iPhone XR ranked seventh with a slightly lower Antutu score of 342,875 points.
Coming in eighth and ninth are the two 2017 models of the iPad Pro which are both driven by the A10X Bionic chipset. The 10.5-inch model scored 278,611points while the 12.9-inchmodel scored 278,259 points.
iPhone X powered by A11 Bionic chipset secured the last spot with an average Antutu score of 243,174 points. In general, there are no big changes in the ranking of iOS devices this month compared to the April ranking. Hopefully, the ranking may be changed when most devices receive the iOS 13 and iPadOS updates after July. Let's stay tuned for the updated ranking results.
For more information about the ranking list, please visit Antutu official website or download AnTuTu Benchmark and check in the menu of "Ranking".