Global Top 10 Best Performing Android Phones, April 2019
In thepast April, many new models have been released on the mobile market including anumber of smartphones powered by Snapdragon 855. With the addition ofthese new models, there are some changes to Antutu's top 10 best performingAndroid phones list for the month of April. Is your phone on the list? Comecheck with us now.
Statisticalrules:
1.Score: all the scores are averaged, not highest score per model (actualrunning results may fluctuate, which is a normal phenomenon).
2.Period of data collection: April 1, 2019 to April 30, 2019.
3.Data amount: at least 1000 units per model.
4.Data source: Antutu Benchmark V7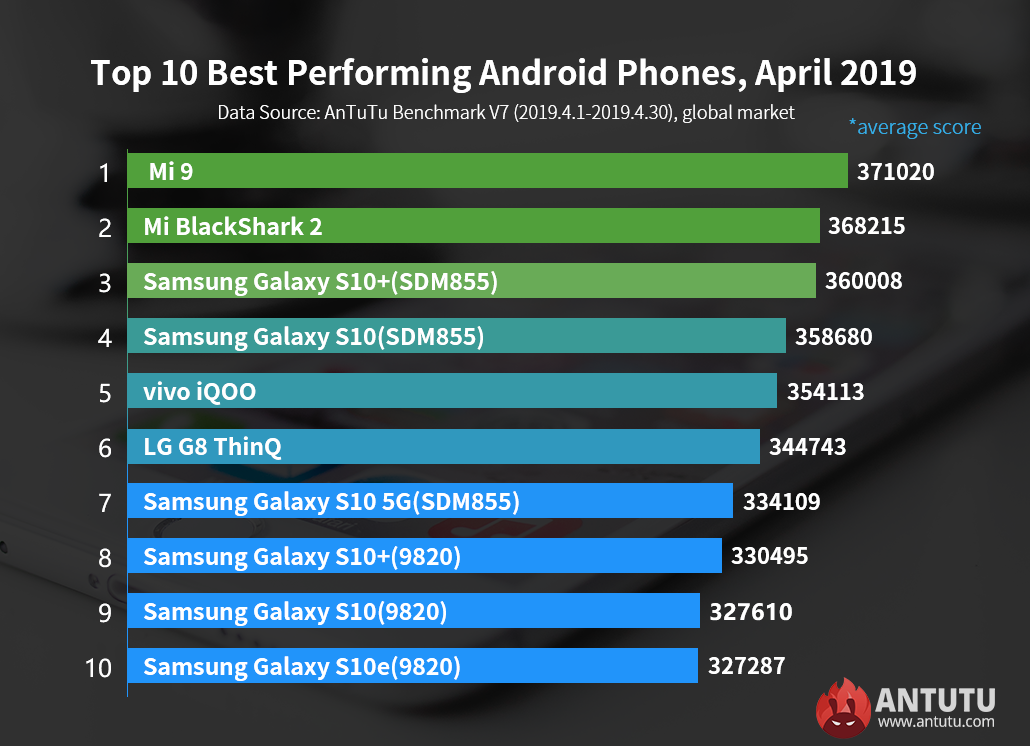 Accordingto our most updated April ranking, Xiaomi Mi 9 topped the list once again for thesecond consecutive month with an average Antutu score of 371,020 points. Thephone is powered by Snapdragon 855 SoC and offers up to 8GB of RAM. Althoughthere are already many Snapdragon 855 powered phones on the market, their performancevaries slightly depending on each phone maker's optimization of the chipset.
Comingin second is Mi BlackShark 2 which scored 368,215 points. Being a gaming phone,Mi BlackShark 2 incorporates a new Liquid Cool 3.0 technology which features a Tower-wideglobal liquid cooling system and a built-in large capacity cooling component thatensures excellent heat dissipation capability.    
Rankingat No.3 and No.4 are Samsung Galaxy S10+(SDM855) Samsung Galaxy S10(SDM855) withrespective Antutu scores of 360,008 and 358,680 points. These two models are thevery early flagship phones that are powered by Snapdragon 855 SoC.
vivoiQOO ranked fifth with an average Antutu score of 354,113 points. The phone isalso driven by Snapdragon 855 SoC, and comes with vapour cooling system that isclaimed to reduce up to 12-degree Celsius of temperature, without hampering theoverall performance.
Roundingout the top 10 are, in order, LG G8 ThinQ, Samsung Galaxy S10 5G (SDM855),Samsung Galaxy S10+ (9820), Samsung Galaxy S10 (9820) and Samsung Galaxy S10e (9820),all of which achieve an average Antutu score of over 320,000 points.
SomeSnapdragon 855 phones haven't made it to the top 10 list of bestperforming Android phones for the month of April due to insufficient data samples.In addition, the Kirin 980 phones that were previously ranked at the toppositions of the list were squeezed out of the top 10 as increasing number of Snapdragon855 phones entering the list. However, there are rumors that the Kirin 985chipset is coming soon. Let's stay tuned.
Theabove data reflects the changes of Android phone performance for April2019. For more information about the ranking list, please visit Antutu officialwebsite or download AnTuTu Benchmark and check in the menu of "Ranking".