Aututu Global Phone Users' Preference Report for Q1 2019
Today, Antutu has released the Global Phone Users' Preference Reportfor Q1 2019, involving screen resolution, system version, processor, memory,etc.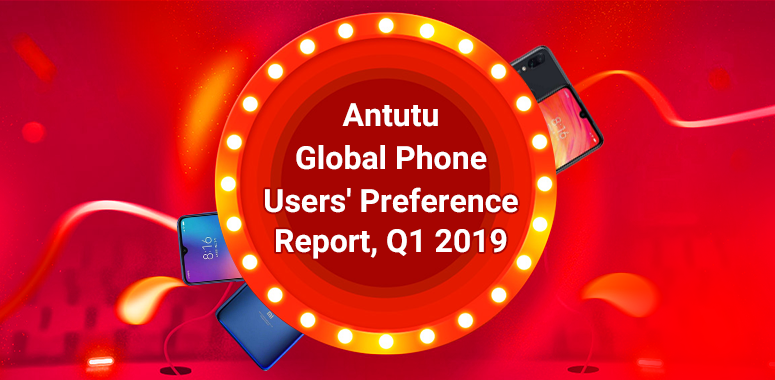 Period of data statistics: January 1, 2019 to March 31, 2019
Data source: Antutu Benchmark
Data model: Android phones
Market area: Global market
1. Screen resolution: Notch screens become the mainstream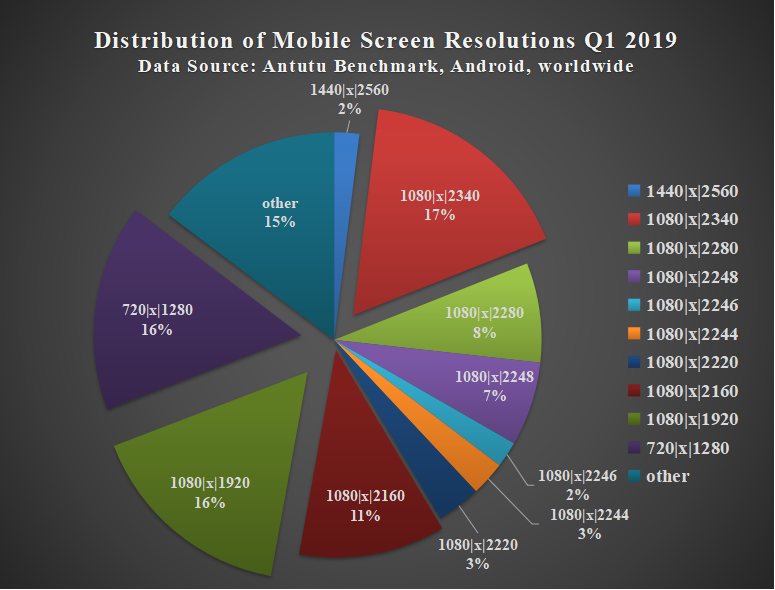 In this quarter, the market share of products with 1920×1080resolution has fallen from nearly 19% in the previous quarter to 16% while thatof products with 2340×1080 resolution has risen from 12% in the previousquarter to 17%, ranking first.
In the meanwhile, the market share of 1280×720 resolutionproducts has increased to 16%, which indicates that phones with prices aroundRMB 1,000 still have a large market demand.
As for traditional 18:9 full screen with 2160×1080 resolution,their market share has decreased to 11%. Obviously, users prefer notch screenswith high screen-to-body ratio (cutout screen/waterdrop screen).
In addition, compared to the previous quarter, the marketshares of waterdrop screens and cutout screens with 2244×1080, 2246×1080, 2248×1080,2280×1080 and 2220×1080 resolutions have increased.
2. Screen size: Small screens may be weeded out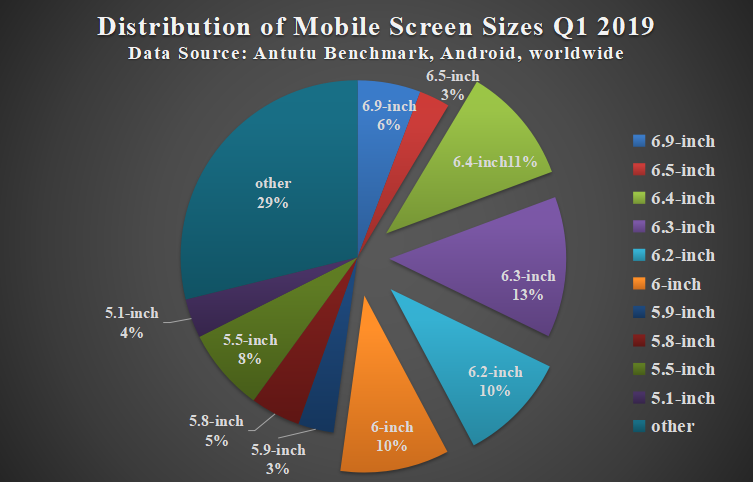 Nowadays, the fact that phones with 5.97" screens arealso known as small screen phones shows the tendency of large screen phones.
According to the statistics of Antutu, 6" (10%),6.2" (10%), 6.3" (13%) and 6.4" (11%) have become the mainstreamsizes that contribute to a total market share of 44%.
On the contrary, phones with screen size under 6" justoccupy a little market share, which only account for 20% together with 5.1",5.5", 5.8" and 5.9" phones. So we can see that phones with small screens have become thehistory.
3. CPU: Octa-core has already become a trend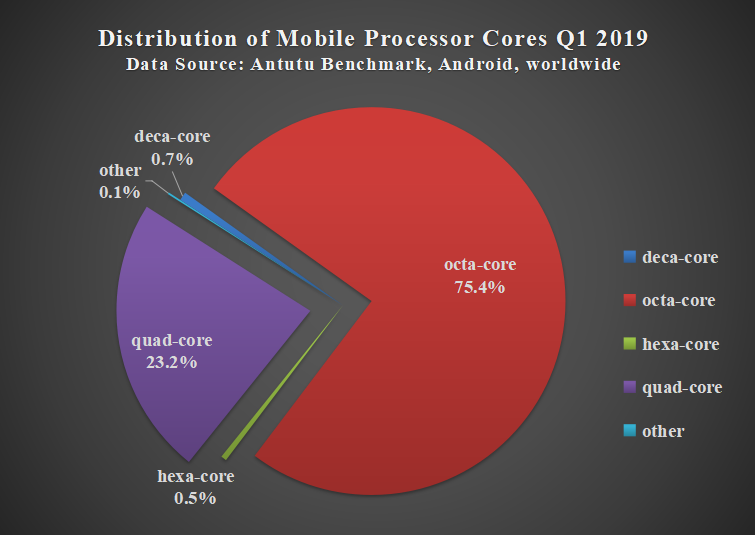 As manufacturers focus on the market of phones with pricesaround RMB 1,000, many high-performing mid-range chips with eight cores and 10nm process technology have been put into the market.
In this quarter, octa-core and quad-core processors account for 75.4%and 23.2% of the total market share respectively according to the statistics ofAntutu, and there is little difference from the previous quarter. AlthoughSnapdragon 855 has been released, it still adopts octa-core design with fourlarge cores and four small cores, which has lower power consumption and betterperformance than that of the previous generation.
The rest includes hexa-core (0.5%) and deca-core (0.7%),which is a little bit less than that in the previous quarter.
4. RAM: 12GB is getting popular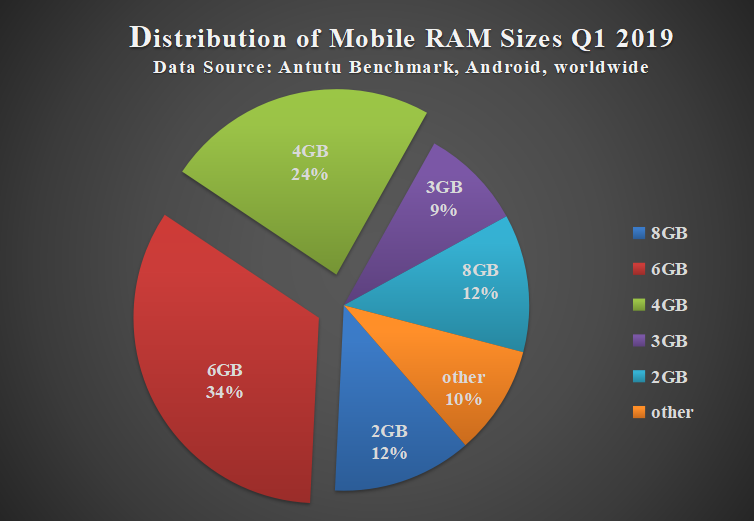 In this quarter, manufacturers are not satisfied with 8GB RAMand have launched 10 GB RAM or even 12 GB RAM, and 6 GB RAM has become thestandard configuration for flagship models.
According to the statistics of Antutu this time, 6GB, 4GB,8GB, 3GB and 2GB RAM accounted for 34%, 24%, 12%, 9% and 12% in market share respectivelyin the 1st quarter of 2019.
5. ROM: 64GB becomes standard configuration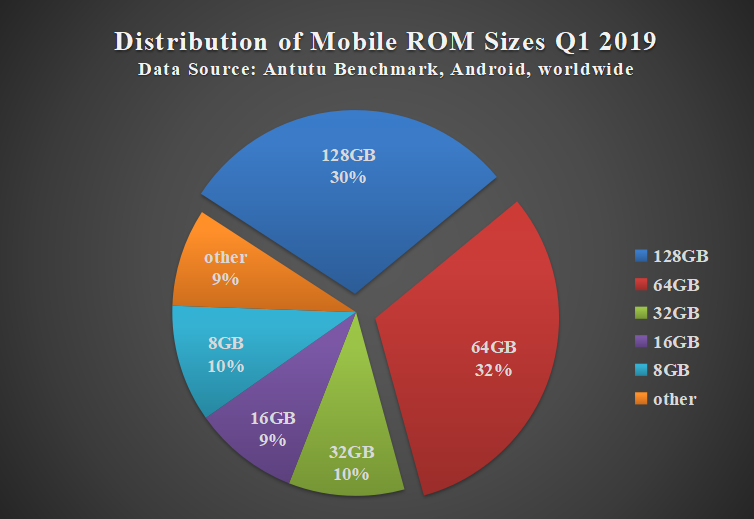 With the progress of RAM, ROM naturally does not fallbehind. According to the data, 64GB, 128GB, 32GB, 8GB and 16 GB ROM accountedfor 32%, 30%, 10%, 10% and 9% in market share respectively in the 1st quarterof 2019.
As we can see, an increasing number of mid-range modelsbegin to adopt 64GB ROM, which has become the standard configuration. There areno longer new flagship models with 32GB ROM except forindividual products with prices around RMB 1,000.
6. Android version: A soar of upgrade speed to Android 9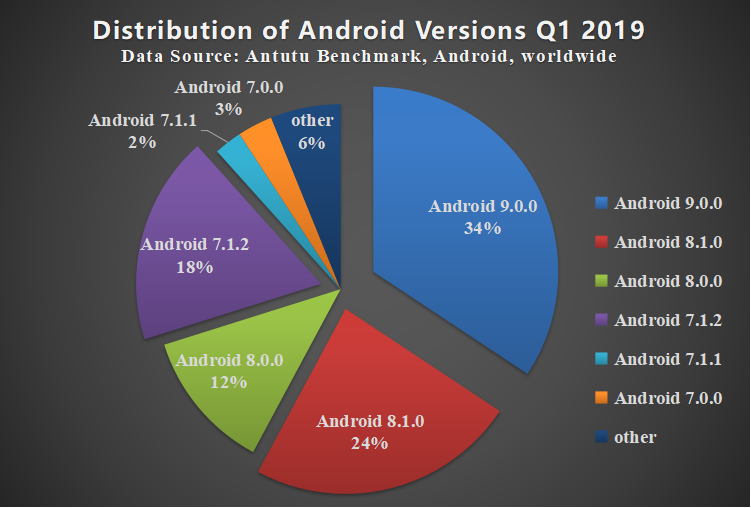 At present, no matter newly released flagship or themid-range models, they basically run on Android 9.0 as the standardconfiguration. Many manufacturers also make old models compatible with Android9.0, which has a faster upgrade speed.
According to the statistics information of Antutu, Android9.0 accounts for 34% in market share and Android 8.1 accounts for 24%.
All those above are the Antutu Global Phone Users' PreferenceReport in this quarter. Overall, manufacturers like to use notch screens intheir mid-range and flagship models. At present, in terms of performance,6+64GB has become the mainstream.
We hope this report will be helpful to your phonepurchasing. For more information about phone performance, cost performance, favorable ratingand other score ranking information, please visit Antutu Benchmark or Antutu officialwebsite.