Global Top 10 Best Performing iOS Devices, November 2018
Today it is time for Antutu to reveal our list of the top 10 best performing iOS devices for November, 2018. With the announcement of the 11-inch iPad Pro and the third-generation 12.9-inch iPad Pro powered by Apple A12X Bionic, how Antutu iOS ranking list has changed? Check out our most updated top 10 iOS ranking list as measured by the average Antutu score.
Statistical rules:
1.Score: all the scores are averaged, not highest score per model (actual running results may fluctuate, which is a normal phenomenon).
2. Period of data collection: November 1, 2018 to November 30, 2018.
3. Data amount: at least 1000 units per model.
4. Data source: Antutu Benchmark V7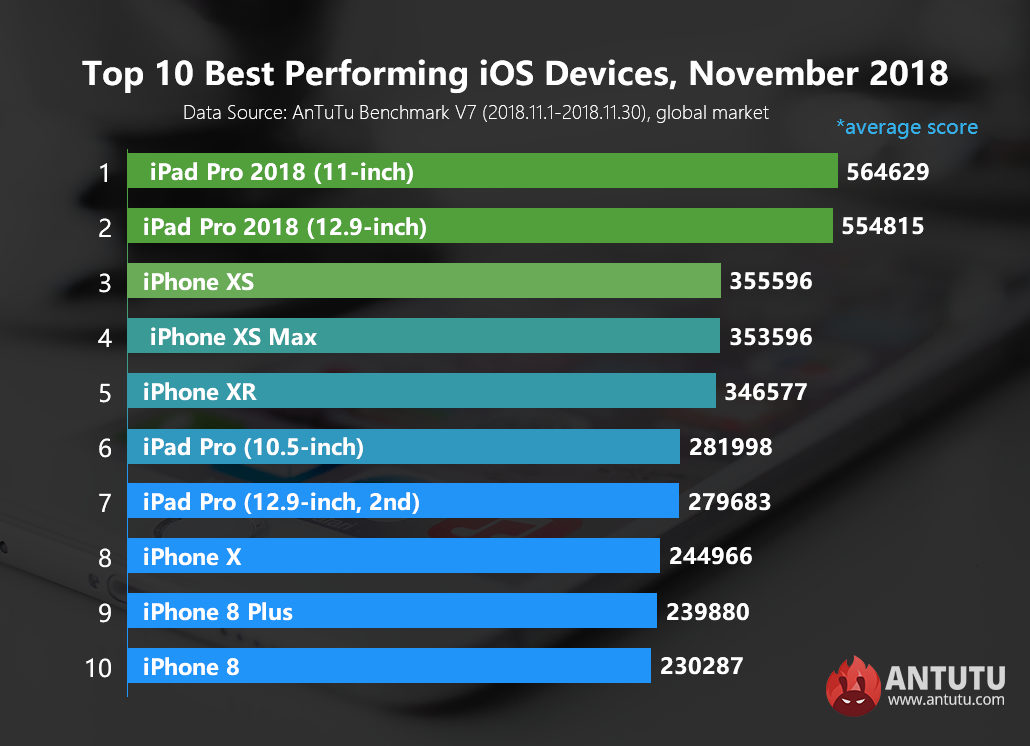 In November, the 11-inch iPad Pro 2018 and 12.9-inch iPad Pro 2018 which are both powered by A12X Bionic unsurprisingly take the first and second spots of the ranking with an average Antutu score of 564,629 and 554,815 respectively. This is the first time ever for an iOS device to surpass the 500,000 score mark on Antutu V7, making A12X Bionic the most powerful chip ever found in an Apple device.
The record-breaking scores of these two iPad Pros could be attributed to the powerful specs of the A12X Bionic, which has an eight-core CPU, a seven-core GPU, and 10 billion transistors compared with the 6.9 billion transistors in the A12 Bionic, allowing it to outperform A12 Bionic with significant advantage.
Following the 2018 11-inch iPad Pro and 2018 12.9-inch iPad Pro are iPhone XS, iPhone XS Max and iPhone XR, which get an average Antutu score of 355,596, 353,596 and 346,577 respectively.
Making up the rest of this month's top 10 are the 10.5-inch iPad Pro, 12.9-inch iPad Pro (2nd generation), iPhone X,iPhone 8 Plus and iPhone 8.
The ranking of iOS devices is expected to remain stable in the next nine months until the arrival of the next generation of iOS devices.
However, from the performance increase level of Apple products over the years, we can assume that even the release of the next generation of iPhone powered by A13 is hard to shake the top position of A12X Bionic.